What is it about creatives (the real ones), that as they get to the top of their game, space and serenity is a must. It is a part of the creative process, that one needs to connect to, an even bigger source than what is between the ears. Could it be that within the silence, there truly is that place of real creation?
Or are they just so exposed to the energy of others, that the only thing to do is to pull away and re-fuel. While others, (that do not create as a living) need to do the opposite: plug in to re-fuel and usually plugging into what the designer just created – the newest and most fabulous space to be in. Montreal has been dubbed "design city" of the world. Who decided this; we really don't know, or even the validity of such a claim. Though one thing is for sure, Montreal does definitely have some of the best designers of interiors in the world – and René Desjardins is one of them.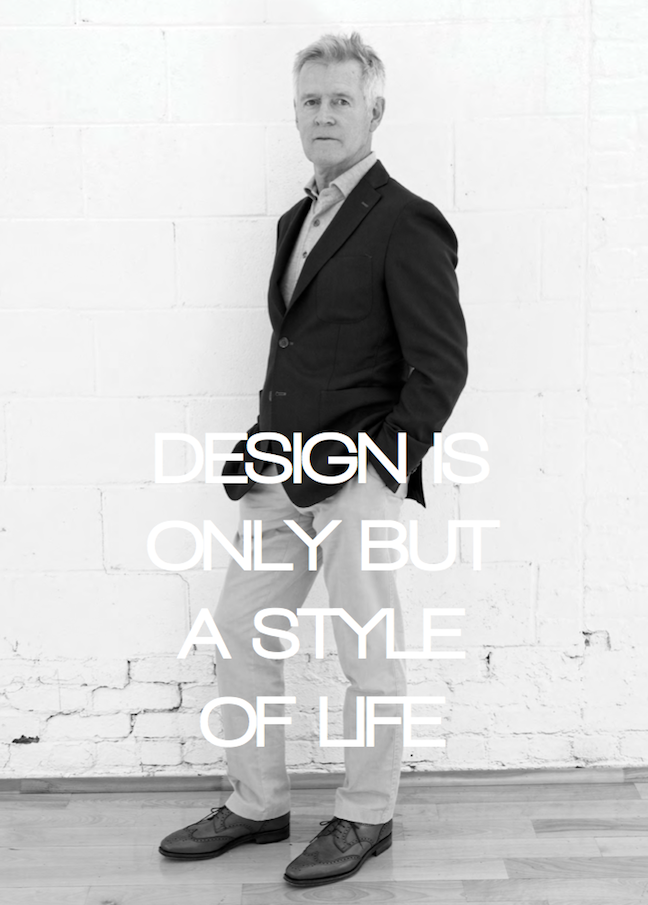 KA- What was the catalyst, that made you go into the field of design?
RD- A friend that needed help with her house…while I was taking a Sabbatical year in 1983.
KA- Creating homes, where a person spends most of their time, is such a personal thing to do. How do you separate from this very personal aspect, and allow your creativity to reflect the client's wishes?
RD- I don't separate their "demands" and my creativity… I "synthe- size" them. (Unify them). Keeping in mind, they asked me to work with them, because they like my "style"…so finally I listen to my inner voice.
KA- Can there truly be such a thing as good taste and bad taste in the context of home design, since taste is so subjective.
RD- It is like everything in life. There is "good" taste and "bad" taste! There are "good" people and "bad" people! It could be a long thesis… Remember that I have a MA in Philosophy…I could bore you to death!
KA- Does the smart home exist?
RD- No! Only "smart" people in "beautiful" homes.
KA- What books are you presently reading?
RD- "The Boomerang" by Micheal Lewis… (I'm reading it) "50 Shades of Grey" from EL James… (I'm starting it) "Toute l'histoire du monde: de la préhistoire à nos jours" by Jean-Claude Barreau… (I just finished it) "Le corps aime la vérité" by David Servan-Schreiber… (I go on and on reading it)
KA- What is the most challenging aspect of your profession?
RD- Ne pas perdre de vue l'idée directrice du projet, malgré tous les intervenants incluant les clients!!!
KA- Besides the obvious joy of seeing a project come to completion, what is the most joy experienced in creating a living space?
RD- La "création" dans son ensemble est l'étape la plus satisfai- sante du projet car c'est de la création pure.
KA- Where in the world would be the dream place to create home?
RD- We can dream it everywhere in the World!
KA- How important is art in home design?
RD- L'Art dans un projet est pour moi l'expression du subconscient, du rêve, du drame, de la folie, de l'émotion…Et cela est essentiel à une maison qui se veut de qualité! Des œuvres de qualité bien sûr!
KA- What would be a simple step to take to update an existing home?
RD- Good floors, white walls, art, and children if possible…!
KA- What is your design mantra?
RD- «Ce qui est parfait au désert…c'est que l'on ne peut plus rien y enlever»…St-Exupéry.
KA- Who is René Desjardins?
RD- An old fool that should work less…but loves his work!!!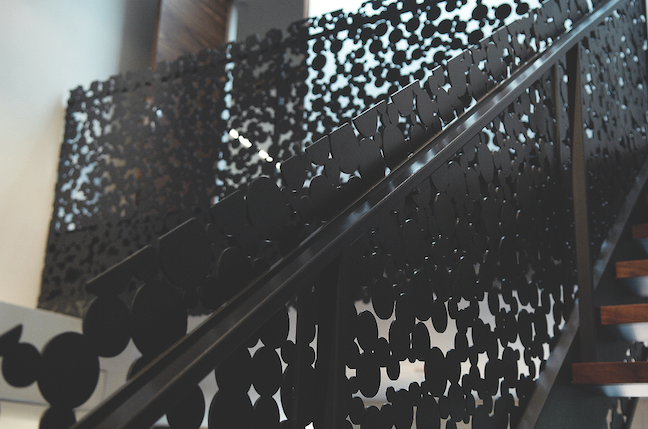 Steel railing painted in dark grey with solid walnut stairs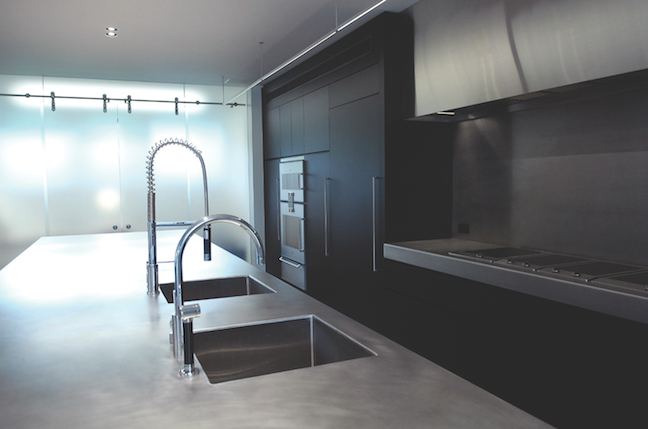 Island Kitchen in brushed stainless steel. Steel structure inserted in the center of the island (total length) to allow the floating lunch counter. Black satin glass cabinets. Frosted glass sliding walls to separate from office.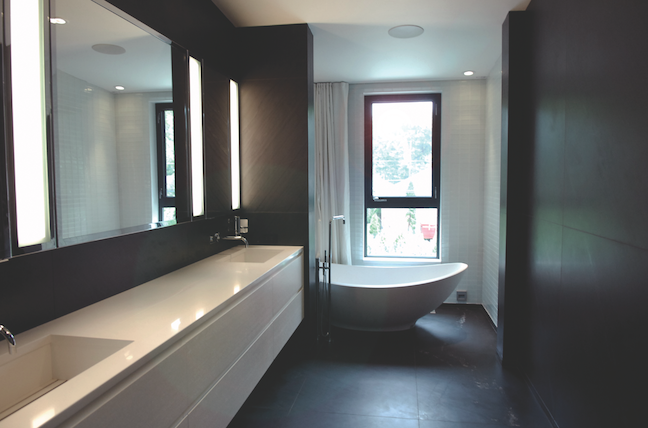 Master bathroom in black and white (grey anthracite stone, honed) Integrated cabinets and lighting with custom sinks in quartz.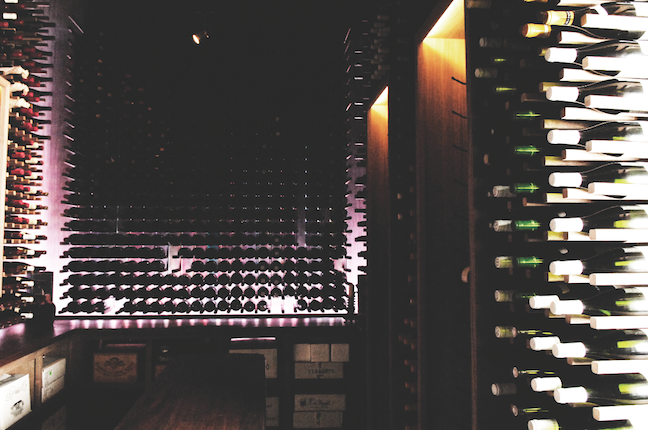 Wine Cellar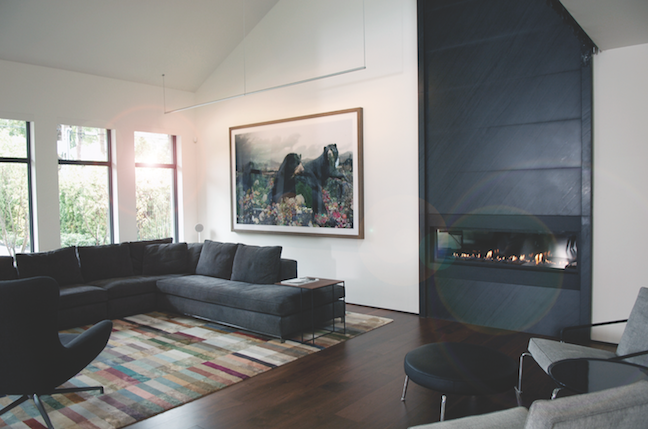 Fireplace in anthracite stone (same as master bathroom) Tracks of lighting hanging in the slope of the roof. Walnut floors and floating gypsum walls.
IRON LACE Project 
RON LACE Project :
• Architect: Architects Julien Bélanger – Carrière architectes
• Landscape Architect: Jean-Luc Charbonneau
• General Contractor: Construction Albert Jean
• Architectural Cabinetwork (doors, moldings, stairs): Pixel & Scie
• Decorative Steel: Artisan de l'Acier
• Kitchen and mudroom Cabinetwork: Cuisine Steam
• Cabinetwork other storages: Mobalpa
• Cabinetwork in the masters bathrooms:Pixel & Scie
• Lighting: C.S. Design / Luxtec
• Audio-Visual: Presence Solution
• Window Treatments: Installations Décoratives
Photography by Kevin Allwood – KA MAGAZINE