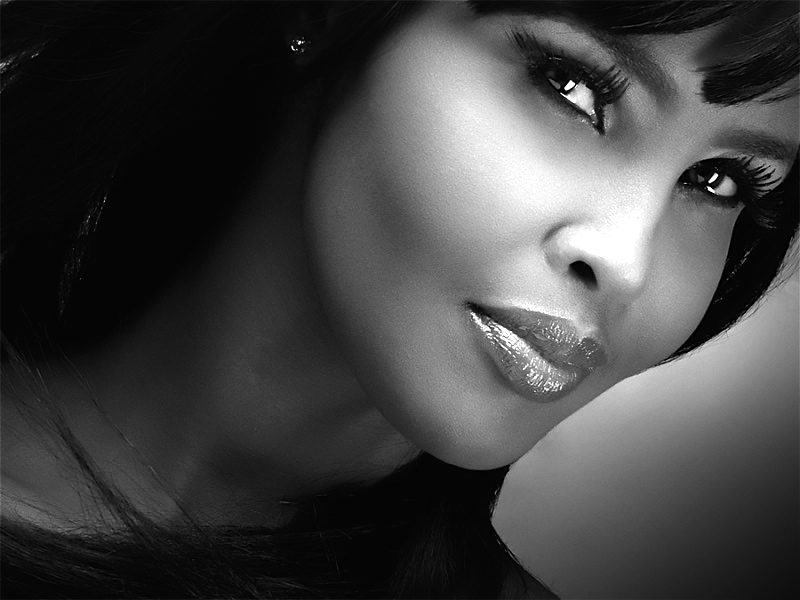 How do you know when something is meant to be? When it just works. This is the case in point when KA had to choose the cover story for the Fall issue. The whole idea behind KA is simple actually. Who can we showcase that is talented, fresh, and positive — Who is "on the verge" but not yet fully out there? It was with this in mind, that the list was made of prospective covers, but it was actually a chance purchase made by myself, that sealed it for us.
After flipping through page after page of images we have already seen, we were stopped suddenly by the vision of Ubah Hassan in a poured-on gold dress posing beside a liquid silver vintage airplane. The choice was made, we had to have her. A quick research pointed to a local agency that was representing her, but with a not-so-positive response from them, we were not deterred in our quest and without pause, contacted Click agency in New York. Her manager Harold Mindel, after seeing the magazine's online version, was more than happy to assist us in the interview and story on Ubah.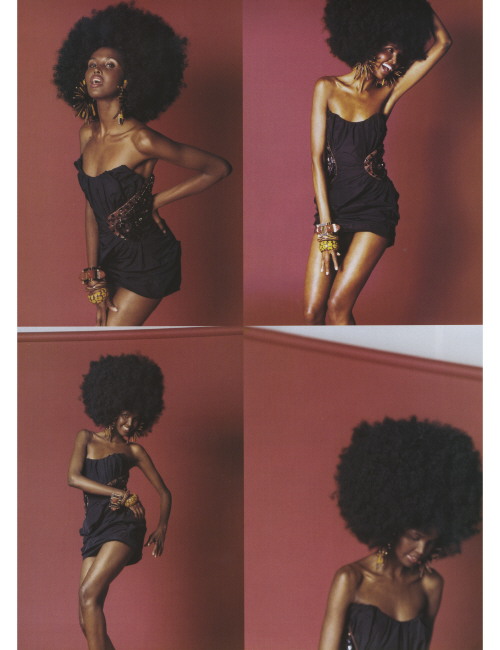 Who is Ubah Hassan? We think that this question will not be asked for long, and to do our part in speeding up the process, here are a few specs on this most rare of finds, the modest beauty.
Born in 1987 in Somalia, Ubah like many others, had to flee this war-torn country, to go to Kenya. This flight was especially painful since the young Ubah had to separate from her mother and sister, who both went to Ethiopia. The story of Ubah does however have a happy beginning. Seven years after fleeing Somalia, her mother and sister were once again reunited in Canada. At the age of 17, Ubah was spotted by a photographer, and the rest is history.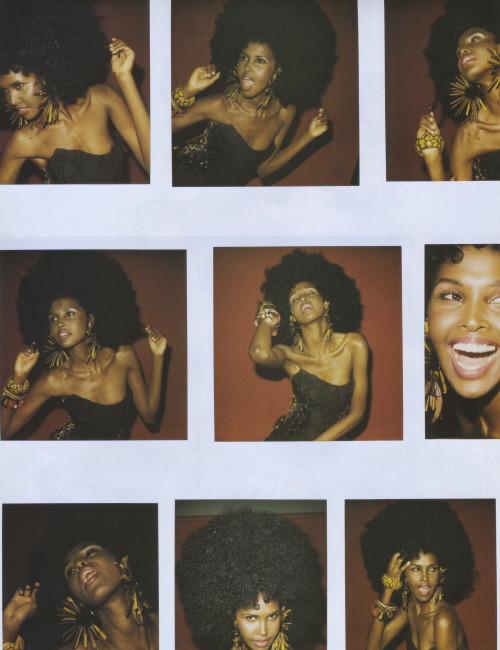 Here is a short chronicle on the rise (and rise) of Ubah Hassan…
– 2007 Ubah signs with Click Management in New York
– 2008 She is featured in the all-black issue of Italian Vogue, photographed by Steven Meisel ( this issue went on to become one of the highest selling issue of the magazine's history)
– 2009 She becomes the face of Ralph Lauren (in the photo that stole all our hearts at KA)
– 2009 She appears in an editorial, photographed by Bruce Weber
– 2009 She stars in a video with Iman discussing diversity of race and modeling
– 2009 Ubah appears on cover of KA magazine … (This is a good year!)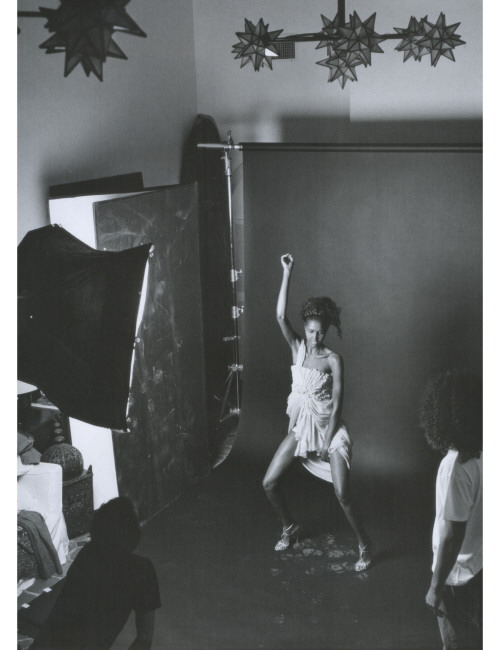 KA — Models are masters of the "quick change"— during shows, you change full outfits and look immaculate in 1 minute flat. From shoot to shoot you can change from vamp to virgin. How do you Ubah, deal with personal change?
UH — When you are at a photo shoot or about to go on a runway, there is always a strong team behind all the magnificent photo shoots or behind the glamour of the fashion shows. When it comes to personal change, I don't usually have a big change. I usually go from white shirts and jeans to a black dress or lip gloss to mascara. Nothing too drastic.
KA — When we think of a model's life, we are bombarded with glossy images and scenes of Jet Set, but the reality is long hours, sleepless nights and jet lag. How do you create balance for yourself with such a busy schedule?
UH — Jet lag is the worst for me, so I try to avoid it as much as I can. I usually travel a day before the job or sleep over so I don't have to catch the red eye, unless I have to work the next day. And I drink plenty of water. When it comes to my time, I have learned to manage my time better. I won't go out dancing until 3 am when I have to work or catch a flight the next day. I have learned to say no to some invitations. Most importantly, I have learned to enjoy time alone. I have come to realize that it is so important to be alone sometimes.
KA — What single life event has change you the most?
UH — Moving to Canada.
KA — What novel or music are you listening to or reading right now?
UH — I just finished a book called "My Sister's Keeper", and I'm listening to Michael Jackson-Thriller R.I.P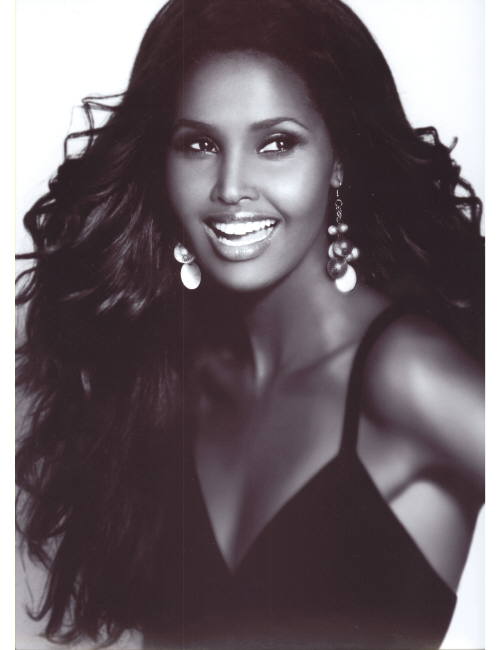 KA — Where do you have the most fun?
UH — In the kitchen with my niece and nephew, while making pancakes for them. Or on a dance floor, I love to dance.
KA — If you were to do a "dream campaign", what would it be?
UH — Romance by Ralph Lauren. It is one of my sister's favorite perfumes. Or an Estee Lauder beauty campaign.
KA — Which design house has been your favorite to work with?
UH — I enjoyed working with Ralph Lauren and his team. Philip Treacy, Oscar de la Renta, Organic by John Patrick. I'm very thankful to work with such amazing people.
KA — The Ralph Lauren image is breathtaking. What were you thinking at that moment to create such a "Queen" image?
UH — I wouldn't say "Queen image", but thank you for the compliment! I was just being myself. Thank God for Carter Berg (photographer) he was easy going and very helpful.
KA — When I saw your image, I thought "This girl rocks — Clear out the space, we need to cover her!" but it wasn't about black or white, it was just about an amazing talent. How do you reconcile with being such a beauty?
UH — I don't see myself in that way. I enjoy my job and when I'm done working, I'm just a normal girl in jeans and a white t-shirt. But sometimes, I do use my "double D's" to skip a long line! (lol)
KA — At your age, the whole world seems to be there for the taking. Does this overwhelm you?
UH — My feet are on the ground. I know how quick you can lose something or someone. I thank God that I have a wonderful family, agent, boyfriend, and friends. So no, it is not overwhelming for me, as I'm surrounded with amazing people who care for me very much.
KA — Which city in the world is your favorite, and what little restaurant makes you feel good and down to earth when you are there?
UH — I love New York, but Paris proved me wrong. I went to Paris this July for the first time. I was speechless.
Restaurant :
I'm a very picky eater so when I go to a restaurant, I usually make my own menu.
I love when my mom cooks for me.
She knows exactly what I like and don't like. Nothing beats that.
KA — When you are alone, what little gremlin in your head would you prefer not to listen to, and what is it saying to you?
UH — "You don't need to go to the gym today."
Make a wish… what would it be?
I can't tell my wish, (or) it won't come true. But I have to say, most of my wishes have already come true. I have a great family, a great agent, true friends and a wonderful supportive boyfriend. What else does a girl want… maybe some cheesecake once in a while!