Drew Haran, a Toronto-based photographer who will literally stop traffic for the perfect shot.  The man is just a genius, we saw this – and we are glad that Drew Haran is an artist featured in the most recent issue of KA – Vol.6 with his Editorial "Man". We've decided to give you an insight into Haran's way of seeing the world, as well as a behind the scene's look at the Editorial Photoshoot, taken in the beautiful penthouse suite of the Hazelton Hotel in Toronto.
Throughout our interview, we got a sense of his passion, and drive for the arts, which is evident through his breathtaking photography. Read on.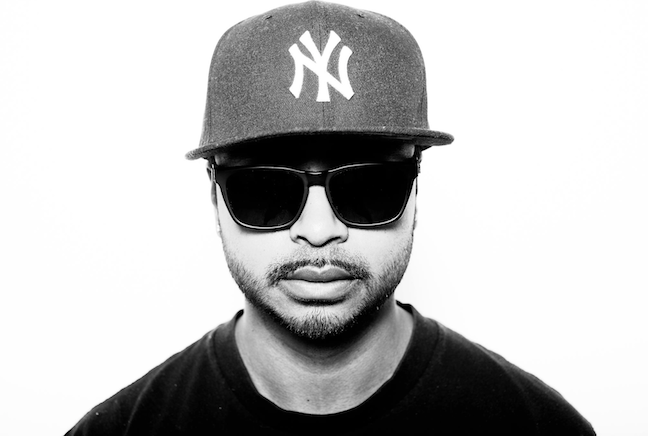 KA – You've said that your love for photography came to be when you purchased your first disposable camera at the age of 13. Describe the photos that you remember most, and that drew you into the art of photography.
DH – The one that stands out the most is a picture I took of a "STOP" sign. I took the picture so I could admire its geometry. In contrast I took pictures of the trees around me and the clouds above me. I suppose the commonality was this juxtaposition of the symmetry in the intimate objects we make, and the asymmetric patterns evolved through nature.
KA – In your photography, you show your preference for untouched work, in comparison to many photographers who rely on editing to effectively portray their vision. Isn't it sometimes difficult to get your message across, and get the perfect image, without any editing?
DH – I think this comes back to my appreciation of natural asymmetric beauty. I rely on what's to be captured in that moment to share my vision with other, rather than conceptualize how I can alter it. We have this fallacy that symmetry is beautiful so filters get added to make everything even out. There's a truth in the untouched. I aim to make something that cannot be replicated, and that can only be done in the moment of time you take the shot.
KA – When looking at your photography, it is clear that you are willing to go to great lengths to get the most beautiful shots. What would you say has been your craziest experience in your career?
DH – That would easily have to be on New Years Eve when I stopped traffic in the center of Dundas Square to photograph a couple.
KA – You say you enjoy shooting foreign subjects. Where in the world would be your ideal place to do so?
DH – Anywhere that has stood the test of time. Photography to me is about the preservation of a moment. I particularly want to go to Istanbul Turkey. So many civilizations, from the Greeks to the Byzantines to the Ottomans, have had their influence there. I'd love to capture what the amalgamation of all of those influences on that single landscape has created.
KA – Being an artist in Canada can sometimes be difficult in terms of recognition. Would you say it has been difficult for you to make a name for yourself?
DH – I'm mindful that we have a much smaller population than say, the US and an appreciation for artistic culture in Canada is in its adolescence; still trying to find its identity.  My intention has never been to do more than preserve a moment for the unspoiled beauty of what it is. I find that there are many people out there that appreciate being able to share in that moment with me, and that alone makes me feel privileged.
KA – In your brief biography, you state that you one day hope to open up your own studio in Toronto for high fashion. When did your appreciation for fashion arise?
DH – I was very much inspired by the work of fellow photographer Ishmil Waterman. To me, fashion tied itself back to that simple admiration of geometry and patterns that made me pick up the camera in the first place.
KA – What would say is one of your biggest obstacles as an artist?
DH – As touched on earlier, it's definitely being in a city that is still trying to find itself culturally.  We all draw the comparisons to New York where artistic culture has well matured into an identity it is comfortable with. Toronto in contrast, is not comfortable with its artistic identity just yet. That means we will try to associate and identify with a city that has a matured identity, rather than trying to develop our own. We'll get there though.
KA – You daily go around Toronto, as well as travel abroad in order get thousands of pictures. What would say is the photo you are most proud of?
DH – Without doubt, that would be my "Midnight in Times Square photo." Manhattan has to be one of the busiest places on the planet, time square being the epicenter of it all. Being able to stop all that busyness and furthermore contain it in a single image is what I'm most proud of.
KA – In your biography, you also explain that the camera lens in simply an extension of your anatomical sight. How would you describe that feeling of being behind a camera?
DH – When I am behind the camera, I act as though the camera is not in front of me. I simply look at the world as I normally do, that doesn't change, and when I see a moment that needs to be preserved and shared for its asymmetric truth, click!
KA – What is the overall message that you want people to take away from your art?
DH – I want people to appreciate the moment through images that are truthful. A photo is capturing light, which is energy, which we are all composed of. I want people to perceive that energy that resonates between them and others or them and the everyday life they take for granted and consequently appreciate how beautiful they are for making a connected contribution to that bigger picture.
BEHIND THE SCENES OF "MAN" EDITORIAL BY DREW HARAN – FOR KA MAGAZINE Vol. 6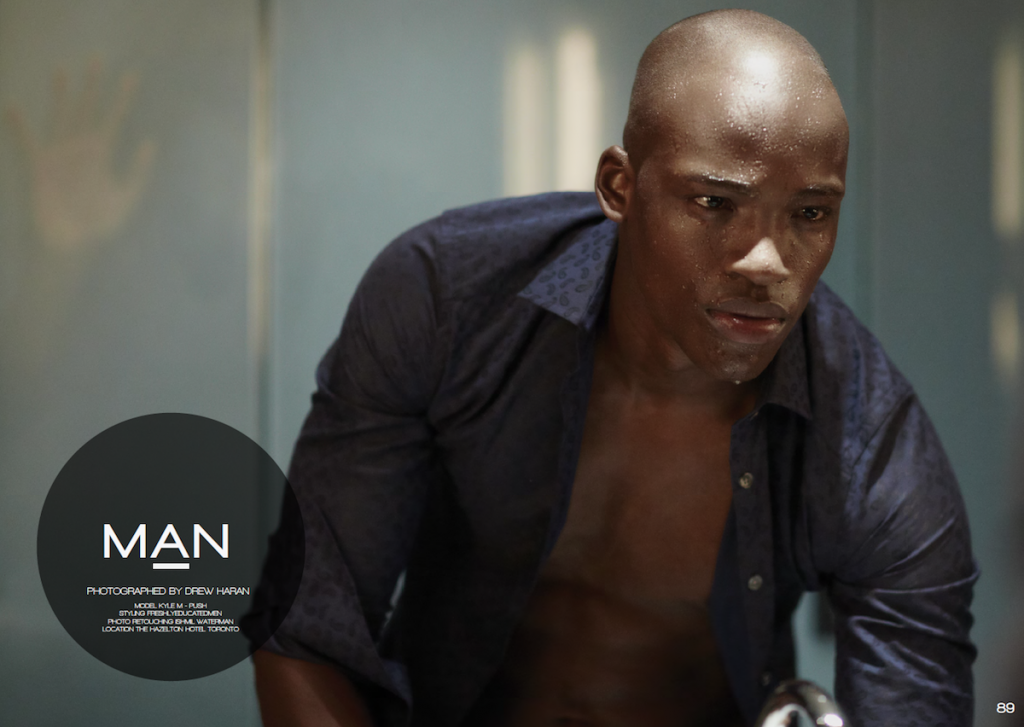 For a full view of Haran's work – visit his website at www.drewharan.com and see his Editorial in KA Magazine Vol. 6 The Design Issue 
MAN – EDITORIAL Vol.6 Photographed by Drew Haran Model : Kyle M. – Push Management Styling by FreshlyEducatedMen.com Photo Retouching by Ishmil Waterman Location : The Hazelton – Toronto
KA Online Story by Ann-Kim Lineus