Lately, we have been inundated with so many things modern and "better": mp3 downloads made Cd's obsolete, Cd's killed vinyl, Instagram made Facebook old and now Snapchat is poised to dethrone Instagram and take up centre stage.
In all this massive shift from individualism to collectivism, one thing seems to have fallen through the cracks, and this is : creatives. Where are the giants that once roamed the creative landscape, and while we are on this topic, what happened to beauty as a creative expression?
It is truly our mission at KA to seek out and find creative giants and what a thrill it is when this elusive and rare soul is uncovered usually mild man- nered and out of the Insta fame loop.
Marco Glaviano is a photographer's photographer. He is dedicated to beauty and has photographed for more covers than can be mentioned in this intro. Born in Palermo Sicily, Marco is a pioneer of digital photogra- phy and in fact, was the first to ever publish a digital picture in American Vogue, circa 1982.
Even though a quick Google search will give you so much info on this amazing creative powerhouse, it is loads of fun to mention some of the beautiful people he has worked with, here goes, Paulina Porizkova, Iman, Joan Severance, Anneliesse Seubert, Yasmeen Ghauri, Eva Herzigova and Cindy Crawford.
Imagine however, that even with all these beauties to work with, Jazz musicians are also his favourite to photograph.
"The most important thing is to have a great subject to photograph. It starts there. Right now, there are not very many models I would be interested in photographing. Good models are not just about looks, it is about the depth of the person inside, their personality, their character. This is what I photograph."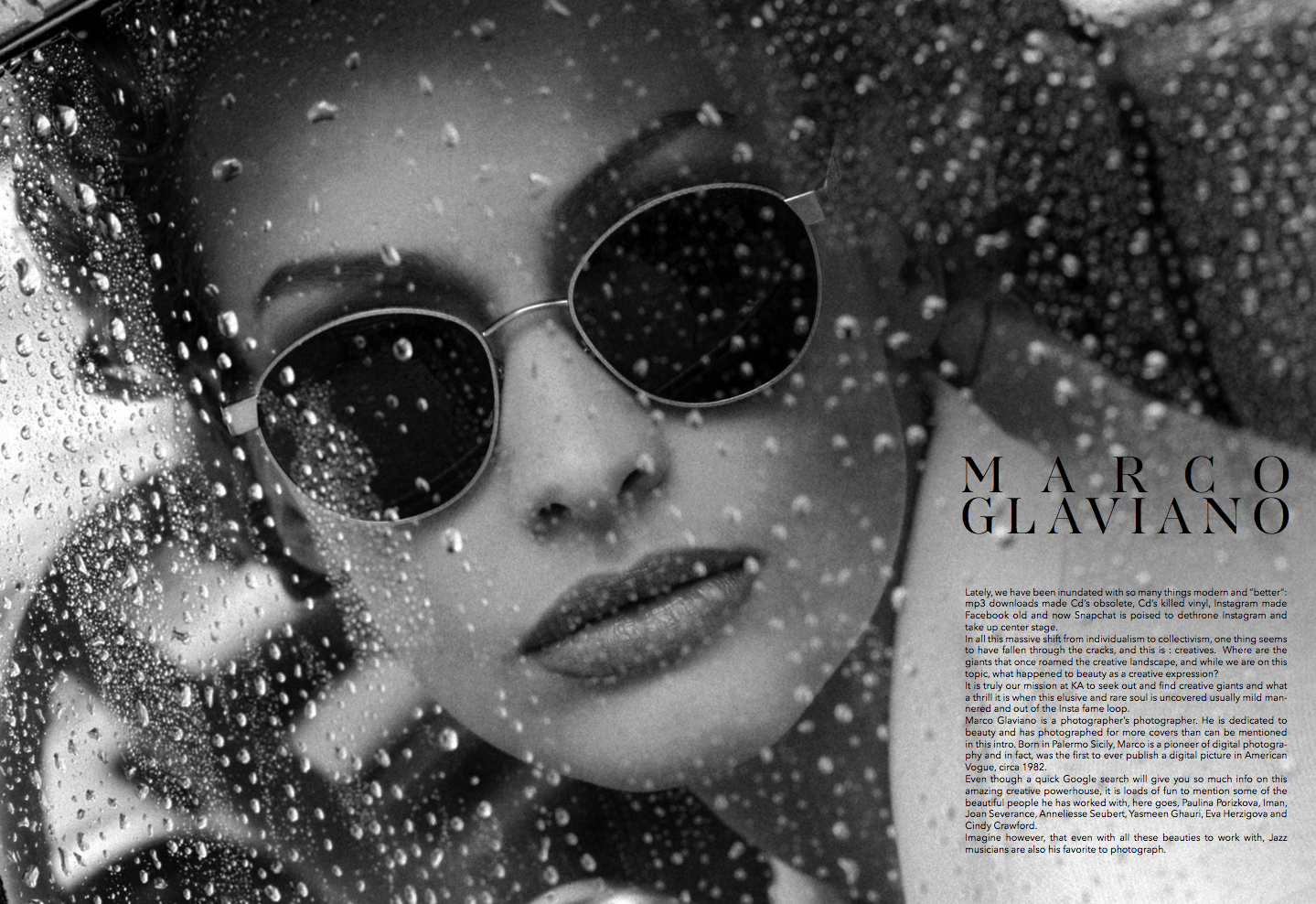 How do you perceive beauty.
In a woman, she is feminine, smart and strong. I believe I work to conserve this tremendous beauty through my photographs, to make them immortal in a way. The women I shoot age over time, but the images I take of them, capture these women in their absolute perfection. It is a shame these days though, that the fashion industry does not see beauty the same way. The Supermodels, as we know them, do not exist anymore. I even heard from my own ears, I swear it, that an agent told a young incredible model that she was too beautiful to be signed within their agency. She is having a hard time, and this is not correct. For some reason now, the agencies are looking for such skinny girls, like hangers wearing clothes. How is this representing women properly. How is this beautiful. The result in the industry is that there are no true Supermodels anymore.
We love how you had a certain loyalty towards young Supermodels like Cindy Crawford, Eva Herzigova and Paulina Porizkova – they also had that loyalty towards you too. Tell us about this.
Yes I started shooting them when they were so young. For instance, Cindy was only 16 when I first began photographing her. We wanted to get her a cover, but no magazines wanted to publish her like we wanted. She had a birthmark on her face and this was not what the publications wanted on the cover, there was a certain American ideal you know. This changed of course, and after 13 attempts, we finally got her a magazine cover and the rest is history. Now Cindy Crawford is an icon and her beautiful birthmark is what made her famous.
Your images are about beauty – love – skin – essence – not makeup, clothing, photoshop and products. How do you find the inner essence of a person through your lens.
It is about the moment, we all just have a good time and capture this energy. Nothing should be complicated. Now photography is very much about digital and post production. How can you shoot to edit everything out after? I don't understand this. I began with film but evolved into digital. I love digital and I love technology. The importance is to not be too dependent on it. Be dependent on skill and creativity. Of course, beyond this, the most important thing is to have a great subject to photograph. It starts there. Right now, there are not very many models I would be interested in photographing. Good models are not just about looks, it is about the depth of the person inside, their personality, their character. This is what I photograph.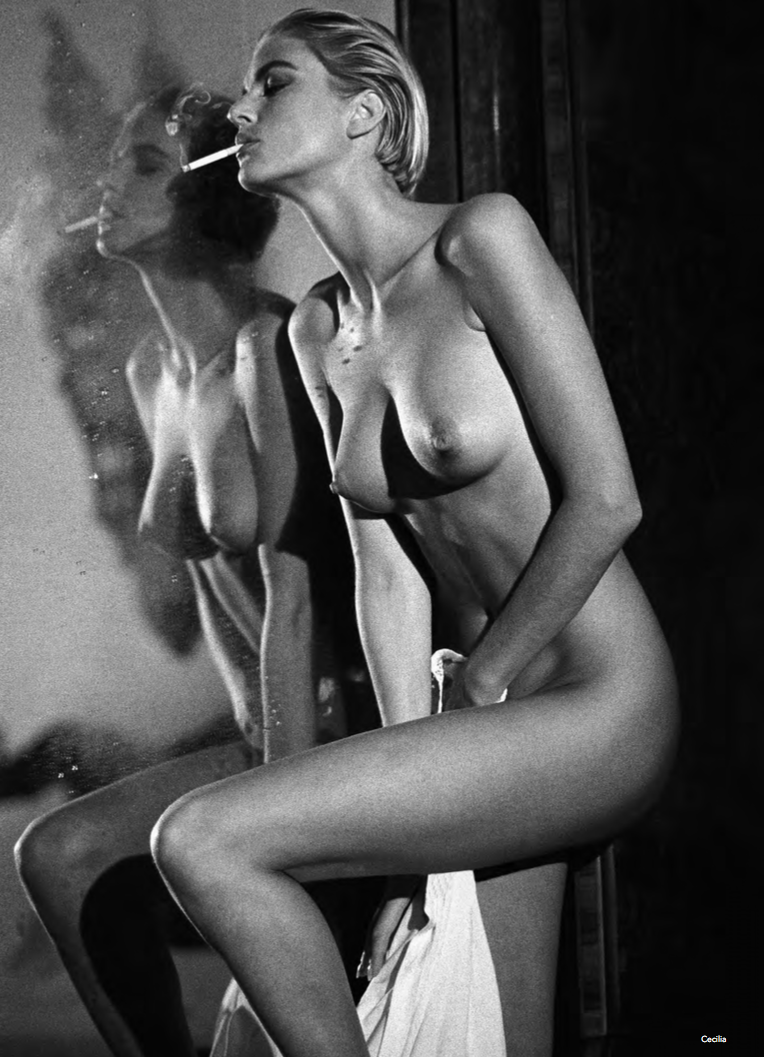 Take us back to 1995 and Pier 59 Studios in New York – what was it like back then – the energy and creation of this important creative hub in New York.
It was amazing then, we had found this very large warehouse building in Chelsea and renovated it. Now it is known as the most important fashion photography studio in New York City. The industry was different then, I shot many fashion editorials, it was creative and fun. As photographers, we had so much freedom to create. Now the editorials are run by the advertisers and stylists making sure this and that ring or bag is front and centre. Where is the creativity there? This is in part, why I choose to not shoot fashion anymore.
You love Jazz, you are a musician – and you have photographed some of the most iconic people in music. Your portraits always look like the subjects are smiling – even if they are not – love this. Why is that.
What I love about photographing these older musicians, is that un- like the supermodels, (who I freeze in time and capture their youth), I capture their entire life, their wisdom. These are some of the most wonderful people I have ever met, these musicians. They know so much. I believe it is how wise these men and women are, how much they've dealt with, that make them so beautiful in photographs. There is a joy for life, for art and music.
What kind of music do you play when you photograph….models / musicians – what's the vibe in your studio.
Ah this is always varying, if I had it my way I would play Jazz, but now most of these models like this weird music…something like alternative, pop? So we play a lot of this and I look for my earplugs.
You were the first to introduce digital to American Vogue – this is a massive transition in technology – what do you feel is next?
It's amazing to see how technology has evolved over my lifetime. Yes I was the first to publish an image in American Vogue in 1982 it was so pixelated it was barely visible. How funny is that, and look at us now. Although the quality of digital photography was so bad back then, I believed in it and new it was the future. Now, we are shooting with literal computers. They are mini computers with lenses. What's next after this? I don't know, maybe microchips in our eyes that shoot an image when we blink. We will see.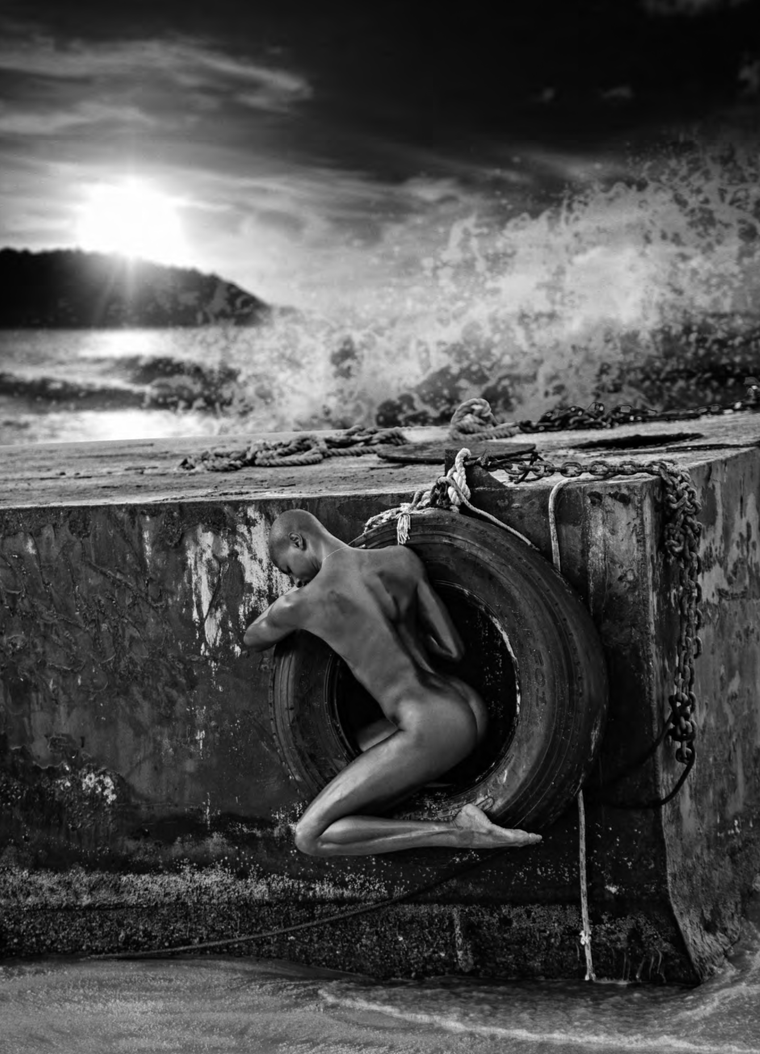 Marco Glaviano Photography exclusively in Canada at IZZY GALLERY, Toronto