What is it about stunning girls in black skin-tight bodysuits riding a black Duccati to a black helicopter, then proceeding to jump from afore-mentioned helicopter into open ocean while speeding matte black yacht (only one in the world anchored off Monte Carlo) cruises by to collect bathing suit clad passenger, wrapping her wet body in a plush black towel… What is it about this scene that is so dammed hot? Everything. But wait, if this is not enough, the fact that the girl in-mention is none other than the lovely and talented Ms. Feldman, now that is thermometer blowing hot! See for yourself. If you were wondering, I did not make up the previous scenario, check out Donna in her recent appearance as Visa® Black Card girl. Our vote for the next Bond girl is right here and with the article on the Aston Martin Amv10, KA Magazine has literally taken out the guess work from the next Bond movie.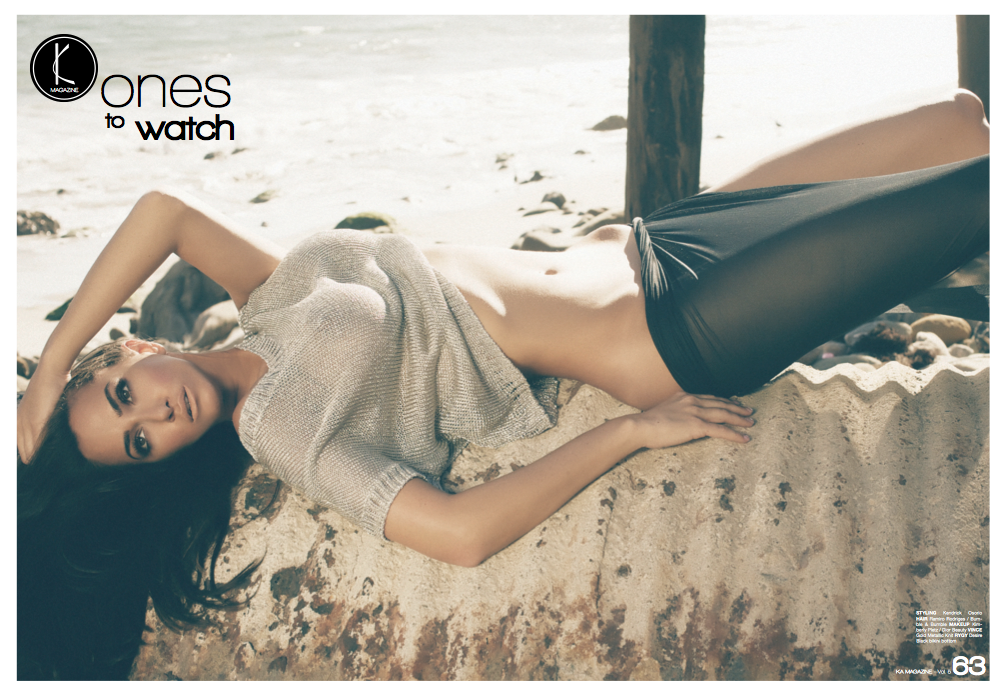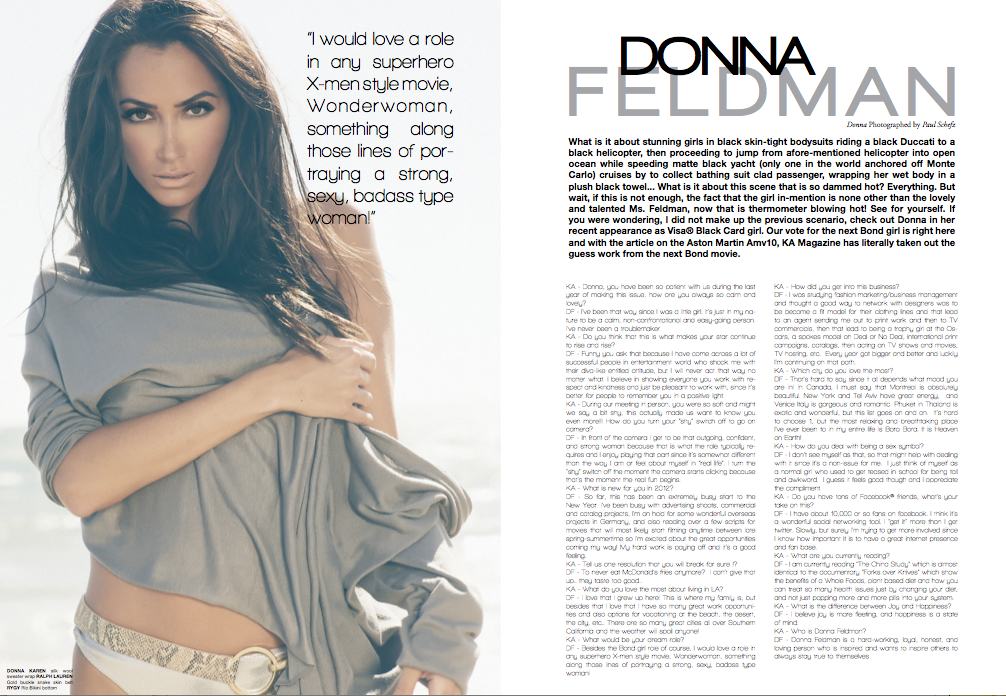 KA – Donna, you have been so patient with us during the last year of making this issue, how are you always so calm and lovely? DF – I've been that way since I was a little girl. It's just in my na- ture to be a calm, non-confrontational and easy-going person. I've never been a troublemaker.
KA – Do you think that this is what makes your star continue to rise and rise? DF – Funny you ask that because I have come across a lot of successful people in entertainment world who shock me with their diva-like entitled attitude, but I will never act that way no matter what. I believe in showing everyone you work with respect and kindness and just be pleasant to work with, since it's better for people to remember you in a positive light.
KA – During our meeting in person, you were so soft and might we say a bit shy, this actually made us want to know you even more!!! How do you turn your "shy" switch off to go on camera? DF – In front of the camera I get to be that outgoing, confident, and strong woman because that is what the role typically requires and I enjoy playing that part since it's somewhat different than the way I am or feel about myself in "real life". I turn the "shy" switch off the moment the camera starts clicking because that's the moment the real fun begins.
KA – What is new for you in 2012? DF – So far, this has been an extremely busy start to the New Year. I've been busy with advertising shoots, commercial and catalog projects, I'm on hold for some wonderful overseas projects in Germany, and also reading over a few scripts for movies that will most likely start filming anytime between late spring-summertime so I'm excited about the great opportunities coming my way! My hard work is paying off and it's a good feeling.
KA – Tell us one resolution that you will break for sure !? DF – To never eat McDonald's fries anymore? I can't give that up.. they taste too good..
KA – What do you love the most about living in LA? DF – I love that I grew up here! This is where my family is, but besides that I love that I have so many great work opportunities and also options for vacationing at the beach, the desert, the city, etc.. There are so many great cities all over Southern California and the weather will spoil anyone!
KA – What would be your dream role? DF – Besides the Bond girl role of course, I would love a role in any superhero X-men style movie, Wonderwoman, something along those lines of portraying a strong, sexy, badass type woman!
KA – How did you get into this business? DF – I was studying fashion marketing/business management and thought a good way to network with designers was to be become a fit model for their clothing lines and that lead to an agent sending me out to print work and then to TV commercials, then that lead to being a trophy girl at the Os- cars, a spokes model on Deal or No Deal, international print campaigns, catalogs, then acting on TV shows and movies, TV hosting, etc. Every year got bigger and better and luckily I'm continuing on that path.
KA – Which city do you love the most? DF – That's hard to say since it all depends what mood you are in! In Canada, I must say that Montreal is absolutely beautiful. New York and Tel Aviv have great energy, and Venice Italy is gorgeous and romantic. Phuket in Thailand is exotic and wonderful, but this list goes on and on. It's hard to choose 1, but the most relaxing and breathtaking place I've ever been to in my entire life is Bora Bora. It is Heaven on Earth!
KA – How do you deal with being a sex symbol? DF – I don't see myself as that, so that might help with dealing with it since it's a non-issue for me. I just think of myself as a normal girl who used to get teased in school for being tall and awkward. I guess it feels good though and I appreciate the compliment.
KA – Do you have tons of Facebook® friends, what's your take on this? DF – I have about 10,000 or so fans on facebook. I think it's a wonderful social networking tool. I "get it" more than I get twitter. Slowly, but surely I'm trying to get more involved since I know how important it is to have a great internet presence and fan base.
KA – What are you currently reading? DF – I am currently reading "The China Study" which is almost identical to the documentary "Forks over Knives" which show the benefits of a Whole Foods, plant based diet and how you can treat so many health issues just by changing your diet, and not just popping more and more pills into your system. KA – What is the difference between Joy and Happiness? DF – I believe joy is more fleeting, and happiness is a state of mind.
KA – Who is Donna Feldman? DF – Donna Feldman is a hard-working, loyal, honest, and loving person who is inspired and wants to inspire others to always stay true to themselves.
See full Editorial with Donna Feldman photographed by Paul Schefz here