Style and strength, now that is a combination that rocks and you will be hard pressed to find a more rocking
person than Erika Larva. Erika along with business associate Liz Walsh, are the driving force behind Monarch
Events Group, which along with their incredible team, have been behind the fashion show production of LG
Fashion Week in Toronto. To meet Erika is to meet love personified, there is just something about this woman
that leaves you with the same feeling as a fresh shower on a hot summer's day.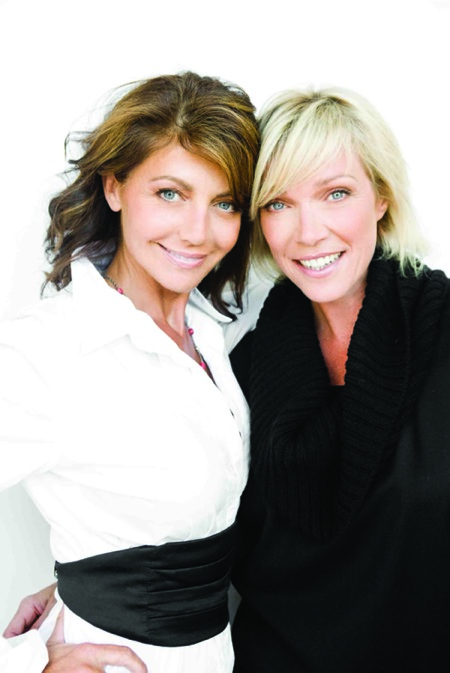 KA — Do you think that love is an important factor in the building of a career in entertainment?
EL — Absolutely! It is not the easiest industry to penetrate so you might have to work that much harder and
perhaps wait longer to find your success. I firmly believe that everything meaningful in life
happens because of the love and passion you feel for somethingor someone.
KA — How important is it for you to connect with your clients, while creating a project?
EL — It is imperative to connect with each client so that one can understand the client's vision, to know their
objectives and who the target audience is. I don't' produce cookie cutter shows, my mandate is to produce
dynamic experiences that unify brand with product, to infuse life into the client's vision
KA — What has been your most satisfying creative project so far?
EL — I enjoy all projects we take on and I have to be creative all the time, but the most challenging shows are
the more theatrical ones with a story to tell.I was thrilled and honored to have been asked to produce the
L'Oreal Paris'100 Years of Beauty and  the FDCC meets Stratford Theatre , both shows presented  opening
night at LG Fashion Week. Talk about nervous! They were both immense creatively challenging projects that
turned out beautifully. Two other projects which give me a ton of creative freedom, are the Book Lover's Ball
for the Toronto Public Library where we bring 8 novels to life via fashion and entertainment, a most
unconventional but exciting show to produce. Also, the award winning Bell Gala, a themed fashion and
entertainment celebrity studded gala
KA — The team that you work with seems to be like your sisters, your work style is also very unorthodox in
that you give full trust to your team without interference. Was this always your way of working?
EL — Yes! I do not know how to work differently. I have great intuition so I quickly sense who I wish to have
on my team. I love the people I work with, each one of them plays an integral role in making "it happen" I
could not do what I do without them!
KA — What is your personal mantra?
EL — Be passionate about everything you do, treat everyone with respect. Be honest – Be compassionate.
KA — Which City in the world is your favorite?
EL — Rome
KA — How do you prepare for something as stressfull like coordinating L'Oreal Fashion now  LG Fashion
Week in Toronto each year, and what keeps you coming back?
EL — It all comes back to truly loving what I do and feeling passionate about my work, plus I  have an
awesome team! It is the most exciting week in the year and I would not miss it for the world. It is pure
adrenaline rush, we work non stop during LG Fashion Week (formerly L'Oreal Fashion Week) , we are
exhausted at the end of it but we are also totally inspired by the  talent, the new designs, the vibe, the BUZZ!
It is powerful.
KA — Fashion has almost become the religion on our planet but we see that it has also become very
homogenous where a few very large fashion houses are making the decision for everything we wear, do you
think this will create a backlash of individuality?
EL — We should use the latest trends only for inspiration and as a guideline. To take it literally is a mistake.
There is so much freedom and so many options to choose from, so there is no need to lose your own
individuality – be creative, fashion is fun. I admire people who create their own style and who have a look,
THEIR LOOK… they adapt the trends to suit themselves and THAT  is sexy.
KA — What would you advise a starting designer in his or her first fashion week show, what is the most
common mistake made by the first time participant?
EL — Do a show only when you are truly ready! You have only one chance to make a first impression.
Use great models, hire a stylist and show producer…work with the best people in the business!
KA — What is the most touching moment unexpected that you have experienced at a Monarch produced event?
EL — Being recognized and appreciated makes me happy
KA — What style of music do you love, and who is on your play list?
EL — It all depends on my mood and what inspires me and moves me on a particular day. I listen to classical
and opera, old school, disco, pop and hip hop and I always enjoy Italian music …
KA — What are you presently reading?
EL — I have a few books on the go right now, not novels as I read those mostly when on vacation.  They are
The Prophet By Kahlil Gibran, The Richest Man in Babylon, Esquire – The Meaning of Life, Ultimate German
(brushing up on my German). A New Earth by Eckhart Tolle , The Eat Clean Diet, 50 Big Ideas You really
Need to Know, Breakfast at Tiffanys
KA — How, if it was at all possible, would you describe true love?
EL — Oh I am sure that many poets have tried and succeeded. I will humbly add that Love is the most personal
and important of emotions. It is our reason for being. It is magical and it has been said and I believe  that it is
the best feeling in the world to love and to be loved.
KA — Who is Erika Larva?
EL — A Larva(e) still working towards becoming a butterfly.