It seems that a common thread with this issue of KA Best of Canada is serendipity, and this trend continues with the chance meeting between the editor of KA magazine and Zark Fatah. It was at such a chance meeting that we knew that this was not an ordinary promoter. Zark was definitely someone we wished to know and share with you. He is a modern day renaissance man, someone who it seems the word 'stop' and 'no' is translated as 'yes' and 'go, go, go'! This guy never stops. With multiple business in the Toronto area which changed of our views on Toronto from that of a quiet little big city, to a world player, Zark is there doing what he does and doing it well. Our KA Best of Canada 2010 pick for best promoter and innovator (Zark Fatah) can be summed up in one word: visionary.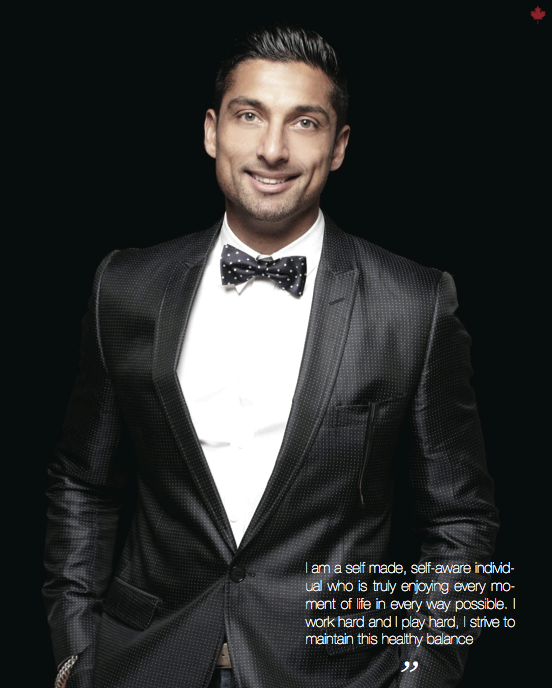 KA — You have created an incredible name for yourself. When Erica Larva was asked who she felt in Toronto was doing an amazing job to promote new and exciting things, she immediately mentioned your name on the top of her list. How did you manage to create such a name for yourself?
ZF — I'm not afraid to push the envelope. I travel and experience so many wonderful ideas and concepts that my city would enjoy. These moments inspire and motivate me to share these experiences with my friends and our clients. Traveling has had a huge impact on who I am and how our companies operate. By seeing many different cultures and societies, you develop a global perspective that takes you far beyond your own local "bubble". Having this worldly perspective gives me the courage and drive to try new things and take chances on risky ideas and innovative projects. I believe that if you believe enough you will convince those around you also. So far it's been working out quite well!
KA — Another thing that was said is that you had impeccable style, how important is styling to you personally, and do you feel this is directly linked to your success?
ZF — I'm a big believer that excellence is in the details. I carry this philosophy in how I present myself, in the décor of my home, the service at my restaurant and the music at our venues. I'm a very detail oriented person so I absolutely take great care and pride in how I present myself. I'm also very passionate about fashion and have to admit that it's my one big vice. I present myself in a specific way and wear certain clothing to create a distinction and stand out. In a city of over 5 million people it's absolutely necessary for people to take notice if you're trying to be recognized, style plays a huge part in this.
KA — How important is charity to you?
ZF — Giving back is something that I now have the ability to do. Thankfully with my connections and resources I am able to help various organizations achieve their goals by donating my time and energy. I strongly believe that when you reach a certain point in your career where you have the money, time or influence to make a difference, that you are morally obligated to help out however you can. In this world we are all one. Living for just yourself is not a life complete. This January I'm joining 20 other Toronto based Canadians on an amazing mission to Kenya where we will build an art school for underprivileged children. The goal of our mission is to help break the cycle of poverty by educating through the arts. The charity is called Artbound and you can learn more about it at www.artbound.ca
KA — The businesses that you operate are similar… in the sense that the spa, restaurant and club have a certain cool aesthetic that still gives off a sense of "welcome". Is this a reflection of your personal being?
ZF — My partners and I are all very personally involved with all of our businesses. We've been able to achieve a real family atmosphere within all of our organizations and I truly believe that our customers can feel this when visiting one of our establishments. We connect with our staff and treat them as equals so that they respect us as people and pass that respect on to our customers. From a design perspective, we know how to create a first impression that allows a guest to feel comfortable and welcome even if it's their first experience. I understand the intangible elements that together create the right mood and ambiance. This is a skill that's been developed over 18 years of working in this environment.
KA — What besides 'not needing much rest' would you consider the most important quality to have in doing what you do?
ZF — I can't honestly say there is on defining quality. Here are the three that I feel are the most important:
Time management is crucial. With so much going on every day it would not be possible to balance my professional life, personal life and travel schedule if I wasn't able to manage my time efficiently.
Equally important is my passion for what I do. After almost 2 decades I still love what I do in every aspect. I truly enjoy meeting new people and entertaining old friends and clients. I thrive on the creative aspect of beginning a new project and I tackle the day-to-day problems like a chess match. I end each day exhausted and I jump out of bed every morning ready for more.
Consistency, I believe in order to develop a solid reputation it's absolutely critical to be consistent and always straight up with people. I strive to always deliver on what I promise and am committed to making sure I don't disappoint those I commit to. In the entertainment and nightlife industry many people talk a big game and make them selves out to be much bigger than they are. I would rather stay humble and pleasantly surprise.
KA — What's next?
ZF — The next project to open will be our second location of Blowfish at the Bay Adelaide Centre. Blowfish on Bay will be a bit larger than the King Street location and is scheduled to open early 2011. After that, I think I'm going to set my sights a bit bigger. I can definitely see myself collaborating on a boutique hotel / condo project. I have a great admiration for hoteliers like Andre Balazs, Jason Pomeranc and Ian Schrager. I feel that with my knowledge of design, hospitality, entertainment as well as spa and wellness it seems like a natural progression to pull all these elements together into a lifestyle focused property.
KA — What music are you listening to?
ZF — I love and listen to a wide variety of music. I'm actually listening to Sade at this very moment. She is amazingly timeless and I can never get tired of listening to her. On my iPod currently is Jay Z, John Legend, Drake, Maxwell, Kaskade, Killers, City and Color, Lenny Kravitz and a variety of deep vocal house.
KA — Who is Z?
ZF — This sounds like such a simple question to answer but I don't think most people ever stop think about how they would define themselves… It really is an important question everyone should consider thinking about. It's amazing what you will learn from your own answer.
….So who is Z…?
I am a self made, self-aware individual who is truly enjoying every moment of life in every way possible. I work hard and I play hard, I strive to maintain this healthy balance.
I'm a good brother, son, friend and employer. I'm proud to say that I treat everyone with respect and do not believe that I am better than anyone else regardless of where we are in life.
I am a proud Canadian and am doing my part to help define what it means to be a Canadian with every trip and every country I visit. I am proud of where my parents were born and appreciate the journey and hard ships they went through to allow me to be born in this incredible country.
I am a man of my word and can definitely be counted on. I care with all my heart but will react with the same passion if I'm disrespected. I am someone who is truly blessed to have experienced so many beautiful things in life and am grateful for all of the wonderful things yet to come.
I am focused, honest, hard working and have an open heart. One day I am going to make a great father.