The show started out with a touch of suspense as a dense sort of silence suddenly filled the room. Then, almost as quickly as it had come, it was over and the first model was tearing down the runway to the fiery beat of tribal house music. Clearly wishing to portray a young, strong woman in charge, Caitlin Power's Spring/Summer 2014 show had started out with a bang.
With looks that can only be described as 'business attire with an animalistic edge', Caitlin presented us a diverse catwalk that moved us even more than the thumping bass vibrating through our seats. Formal attire with an ethnic twist, the collection was a bold mix of cream, black, white, grey, ruby red and the universally feared mix of yellow-green known as chartreuse. Colours were broken up with an abstract stripe, a neutral motif as well as chevron and textiles varied in texture from the shiny to the silky to the tough and leathery.
Proving that office-wear need not be boring, Caitlin's french-Caribbean inspired line featured eclectic details such as leather panelling on structured tops and bottoms, layered pencil skirts, and chevron-striped leather dresses. A wide range of garments were produced, from fitted slacks to tailored jackets, crisp shirts and silky blouses, crop tops and deep-v dresses and a handful of power suits.
The Calgary-born, Toronto-based designer may have kept the show simple but her garments were anything but, exuding the type of potent, powerful sexiness there's just no looking away from.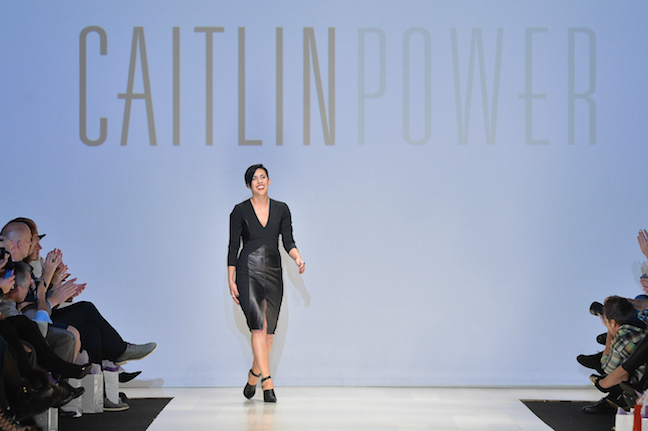 More at caitlinpower.com
Story by Dayana Cadet, KA MAGAZINE
Photos by George Pimentel