From a healthy dose of high fashion to a cheeky story line (not to mention tons of whimsy), Karla Colletto's short film showcasing her 2014 Cruise swimwear collection has it all. Directed by the geniuses Pum and Jake Lefebure over at Design Army, this sweet and sexy collection of 'Aquatic Couture' has us yearning for an excuse to head south of the hemisphere.
For over 25 years, the world-renowned Virginia-based designer has maintained an unwavering position on the cutting-edge of swimwear. Never one to shy away from the latest innovations in synthetic textiles and newest design techniques, Karla is daring and unafraid. She is consistently pushing the boundaries when it comes to contemporary swimsuits.
Karla's creations have been featured in numerous acclaimed fashion publications and with good reason! Each piece is flawlessly crafted in-house with only the finest materials resulting in impeccably well-tailored collections complete with a 'Made in America' seal of approval.
Brightly coloured and set against a sunny backdrop of clear blue skies and sprawling palm trees, this short film is fun(ny) and refreshing. In it, we follow an It Girl on vacation as she fights scandal and follows her dreams decked out in Karla's couture- quality collection. Standouts include: a fun, mod-inspired, black and white one-piece, a sophisticated taupe two-piece with sleek patent accents and an adorable pink and white floral number. Oh, and don't even get us started on the fabulous accessories, namely the shades!
The rest of the collection includes a comfortable mix of effortlessly chic, 'unconstructed' styles for a lazy day on the beach and bold, sultry pieces perfect for turning heads and making a statement . Summer may be a long time coming but this video is sure to keep you warm during those cold winter months.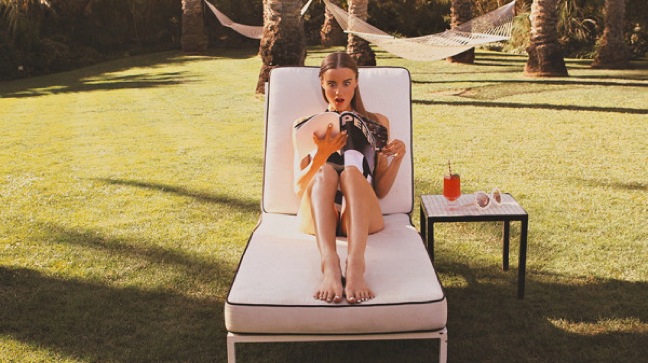 See more at karlacolletto.com
Story by Dayana Cadet, KA MAGAZINE