* Retraction : In our printed issue of KA Best of Canada 2010, we have recently made an error in the reference to Nicole Jones' CTV show "City Lites" by calling it "Montreal Lights". Please see the corrected version below – Congratulations Nicole on being Best of Canada 2010!
Allot of readers have commented on how much they love KA Magazine because it introduces them to people that they would otherwise not have known. They are so happy that we focus on talent and heart first, and put great emphasis on these two qualities. Nicole Jones, our TV personality of choice, is the main person behind the new show "City Lites" on CTV. Just one viewing of Nicole in action, and you will see how she caught the attention of KA Magazine and how she is definitely one to watch.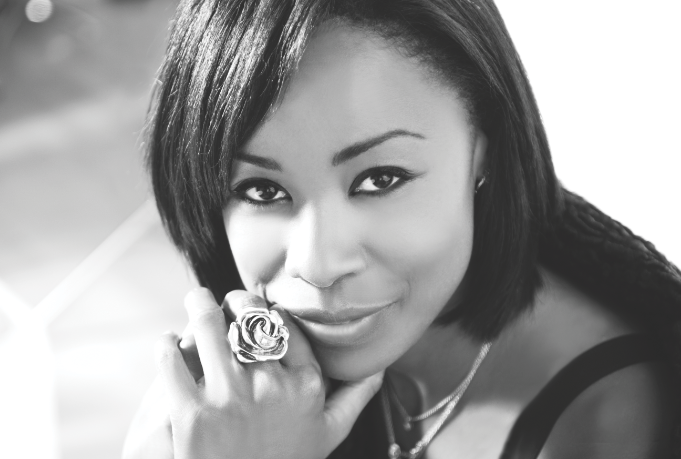 KA — I will never forget the first time I met you. Actually it is not even anything about the place or the time that I can remember, it was just the energy of the woman standing in front of me. It wasn't until you left and I saw a photo of you that I was struck by how incredibly beautiful you are inside and out. Where do you get your massive amount of positive energy?
NJ — First, thank you for the compliment. I am always humbled when someone recognizes me for my energy because it's based on the real me, my brightest light.
I would say my positive energy comes from my grateful attitude and thankful heart. I get my best energy from God, the Universe and being in tune with myself, my life, family and friends.
KA — I also felt at that meeting that "Here was a woman that is working her ass off to get where she needs to be". How much of success do you feel is blind luck, a sort of roll of the dice, and how much sweat and tears?
NC — You know it's a tricky question because I have been very fortunate with the people I've met over time especially in the industries I dreamed to work in. However I also believe in the law of attraction. I love my life and I am good to it, I feel blessed, I have a clear focus of what I want, I work very hard, I do my best in everything I aspire to achieve and I think life naturally rewards hard work. I've always loved the quote "luck is timing and preparation come together". I am constantly preparing for the next level even when I don't know what that level is but that's all part of the excitement.
KA — You feel like you have just come through a certain self-realization, is there a story here that will help others who are in the good fight?
NJ — I've done a lot of work on myself over the years to be able to get to the point where I am proud of myself and able to answer such questions with confidence and peace. I feel like my entire life has been a test and through it all my spirit always reminded me I will get through the hard times. Reminded me to look for the positive to be thankful for what I have, to learn the lessons along the way and always continue to dream…I choose positive and positive chooses me. It's really a choice to be happy; it's the most powerful thing a human being has is the power of choice.
KA — What would be your dream assignment?
NJ — My dream assignment would be to interview Oprah. I know it may sound cliché to some but she's been a big inspiration in my life for many years and in more ways than I can name she has helped me define my own path; total respect from one woman to another.
KA — If you had three wishes, what would they be (you have been given permission by the wish police to tell your wishes)?
NJ — The ultimate question…
My first wish would be eternal health and happiness for my family and friends, my second wish would be to find loving homes for every child in foster care and my final wish would be to have three more wishes;)
KA — Do you believe in heroes and if so, who is yours?
NJ — I do believe in heroes, it's important to have someone to look up to who reminds you that anything is possible. In my case, again I am very blessed to pull from a deep pool of amazing individuals but none quite like my mom. She's an angel on earth and has helped so many children, despite so many personal hardships, she's survived all odds, and she is my hero and the keeper of my heart.
KA — When you were a little girl, what was your view on life and the world around you?
NJ — I grew up with what I needed not always or often what I wanted, my family had very little and worked very hard but they shared what we had with anyone who was in need and that taught me great values and family values. One of my favorite stories is when my sister reminds me that I knew at eight years old I wanted to be a star! I knew there was so much more out there in the world then what I was privy to growing up in small town of Chambly, Que. When I was a little girl, I thought the world held all your dreams and all you had to do was go get them.
KA — Is there a single act of kindness by someone else that has affected you the most this year?
NJ — There are a few great moments that come to mind but one that stands out is after an interview with a very successful and predominate guest, he said to me "I will bet on your success, there are not many like you, and I'm not one to throw compliments". It was one of those unexpected compliments that felt like a surge of confidence and empowerment. I know this person has been exposed to some of the most powerful and successful people in the world and I appreciated him taking the time to share his thoughts, I was humbled and it's stayed with me, thank you.
KA — KA Magazine has chosen you as best of Canada 2010; does this give you a special feeling of good vibes?
NJ — To be chosen as Canada's best is like a dream come true, it's confirmation that I am on my path and all of my hard work, dedication and commitment to living my dreams is really happening. It's an honor to be recognized, it's a privilege and it inspires me to continue moving towards my destiny helping as many people possible.
Thank you KA magazine and thank you Canada.
KA — When you travel, do you carry your little Canadian flag pin, isn't it wonderful that the Canadian passport is such a positive thing to show?
NJ — Yes, our passport is fantastic to show!
No, I don't have a flag pin (I probably should;) however, I am well traveled and I am always so proud to represent Canada wherever I go, I love to be from Canada and the world loves us too!!
KA — How do you stay clear and positive?
NJ — I stay clear and positive mainly from my faith, I am spiritual, I believe in God and I know that I am not in this life alone. I have the blessed responsibility to be the keeper of this vessel and I take that seriously. I pray, I love myself and I am thankful every day, I do my best to stay open to all opportunity in life to help others and that is a good way to maintain positive energy and keep it real.
KA — What music are you listening to these days?
NJ — Right now I am into house music, plus I'm freshly back from Ibiza, Spain where I discovered an amazing DJ named Jimmy Jones at DC 10, wow! I love my local DJ's Bruno Brown and Erik El, they're amazing as well. On another note I like everything Mary J Blige, Alicia Keys, and of course, Ashley King is never far.
KA — Love: have you defined it yet?
NJ — TBC…
KA — Who is Nicole?
NJ — I am a daughter, a sister, an aunty, a best friend, a professional, a mentor, a dreamer, a child of God and a woman with compassion, empathy and love for the world. I am simple soul, I love to laugh, I have wings and roots, a gentle heart and big ambition; I am me and I love who I am.
God Bless.