There is something to be said about fall in New York City. The crisp air, the sounds of the bustling streets, the sights of the iconic yellow cabs, and the feeling that you are perhaps in the midst of something spectacular. Every year right around the same time, the worlds most recognized designers, and some very promising new faces showcase their spring collections.
While New York Fashion Week might be over, the models, designers, and beauty teams will be flying across the pond to show in our other fashion capitals: London, Paris, and Milan. Over the seven day event, numerous collections bear their fashion souls for the runway vigilantes in hope of satisfying the Editors, Bloggers, Buyers and of course, the end clients. With so many extravagant, and truly sensational sets it was difficult to highlight our six most noteworthy. In the lineup we have well-versed fashion notoriety, as well as fresh designers who are taking risks, and the rewards for them have proven to be exponential.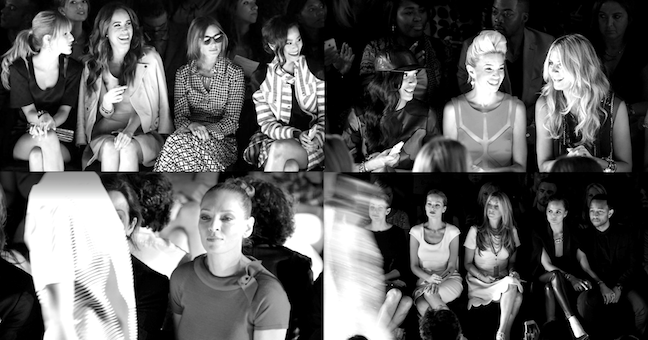 Prabal Gurung
"If you see a woman in a beautiful chiffon dress and she turns around and gives you a hint of harness, that's my woman," said Prabal Gurung during his spring preview. Creating and imagining the Prabal woman is an amalgamation of heroic colour palettes, earnest design techniques, and a touch of 1950's romantic charisma. His spring collection was his take on the modern woman, "femininity with a bite." His inspiration was the infamous "Last Sitting" with perhaps one of the most iconic women of our time, Marilyn Monroe. Those historic images shot by Bert Stern were pinned to the designers' mood board, and dictated his direction. Bold pops of colours, roses, and Old Hollywood glamour trickled through the collection, but was harmonized by an almost clinical element with the use of clear plastic walls. He toyed with both day and night wear, colliding sporty details – satin bomber jackets – and – pungent satin fused with mesh stamped on tea-length dresses.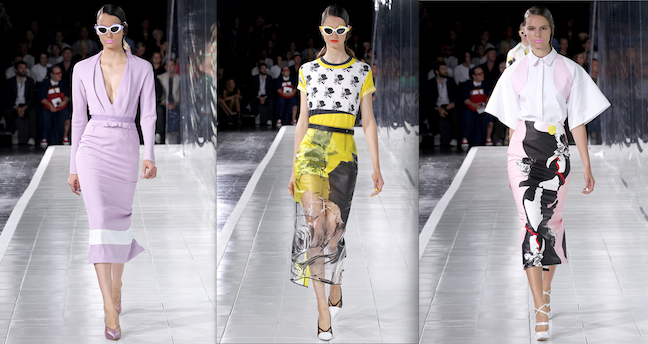 Narciso Rodriguez
His spring collection was a true reflection of the house mantra – chic modernity. "I was thinking about very rich textures and many new ways of treating materials," Said Rodriguez backstage prior to his show. Some pieces that took to the runway were laser-cut chiffon fused with lace, and architectural details such as sharp lines, and stringing graphic precision. The designers' use of fabrics artfully played into his exquisite body of work – a dazzling copper jacquard to an assortment of marvelous and potent colours fused with exact precision. Rodriguez is a modern day artistic genius, which understands the use of positive and negative space when designing his collections. From sheer to texturized, and even embroidered to shine – he demonstrated serenity and harmony in his latest show.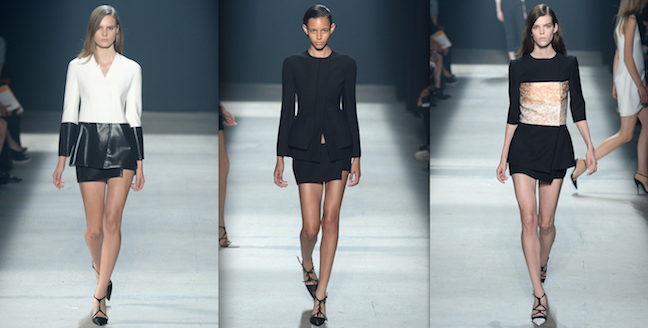 Adam Lippes
Perhaps not a household name –yet- this designer was one the Global Creative Director for Oscar de la Renta where he earned his stripes, and certainly learned the ropes. He launched his namesake collection in 2004, and has since garnered fashion éclat, which has lead to a steadfast band of fashionistas devotees. For his spring collection, he was inspired by the low rider culture—a seemingly prodigious affair in Mexico, California, and now Brazil. This trend focuses on cars with garish paint jobs, and brazen chrome rims. His loose interpretation of car culture was refined with a potent focus on lines, oversized silhouettes, and ink. A powerful and almost savage lion was made a print on silk midi dress, which boasted delicate chiffon overlay creating an intricate and multifaceted feel. That print trickled through the collection, and was stamped onto a tailored Neoprene jacquard jacket, and on an immaculately lush white python inspired dress.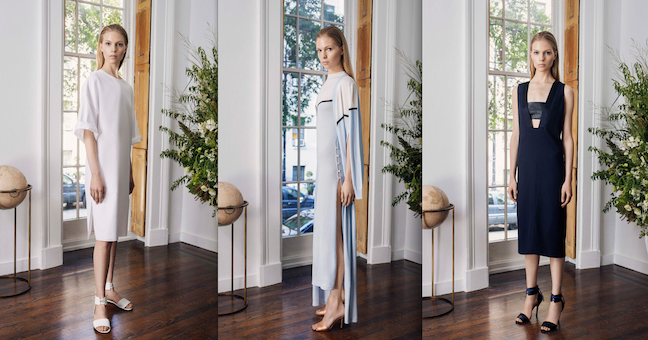 The Row
The setting was a spectacular, and was a perfect backdrop for their stunning spring collection. A seemingly endless array of muslin curtains transformed the space into an intricate web of covert cavities. Inspired by the America, the house "wanted to focus on true American culture, which is about taking elements from different cultures all over the world and bringing them together."  The sisters blended rather glaring global innuendos, with their tasteful and refined approach to design. The show commenced with immaculately tailored garbs, which ultimately set the tone, and initiated a host of unique textures and creamy colour palettes to come. Delicately embroidered bodices, fused with seemingly endless multifaceted layers such as a demure lace dress over tailored trousers garnered took to the runways proving that innovation and detailed craftsmanship are truly alive in fashion today.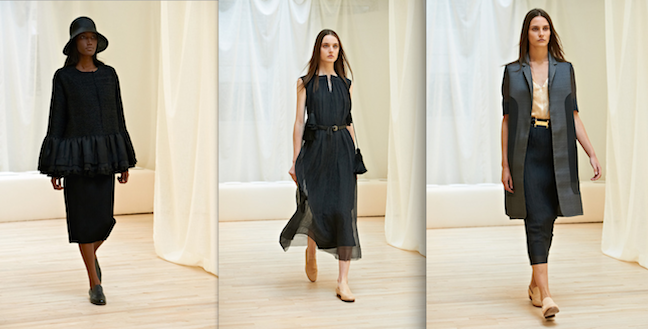 Calvin Klein
Francisco Costa marked his 10th anniversary designing for the house, and in doing so progressively excelled rather than revisiting his classics. The strict modernist codes of the Calvin Klein collection is slowly becoming reinvented through the use of diverse design techniques and artful approaches. Hints of street chic style infused with audacious glimmers of flash were anything from the conventional minimalistic mantra. Backstage, Costa explained that he was referencing artistic influences from Pablo Picasso and Jean-Michel Basquiat to Gordon Matta-Clark. "Maybe it's slightly out of the box for us," Costa said. "I think we took a chance."  From ornate draping details to contrasting colours, and an emphasis on the waist, he worked transparent elements with luxurious tones into this evolutionary Calvin collection.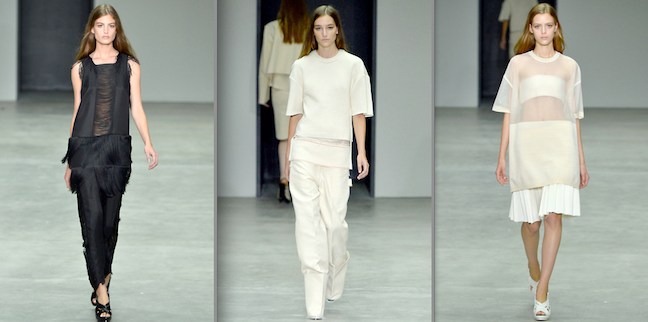 Alon Livne
This was the designers' debut on the New York Fashion Week circuit, and it was definitely one to remember. His unconventional design approach allowed his collection to stand out from the pack. A take on the futuristic elements with an almost eighties inspired vibe – he referenced Grace Jones and delivered a tenacious team of dresses. He combined silk chiffon with tailored and stinging sculptural bodices, married with an audacious colour palette. Although his first collection, it most certainly is not as his last as the fashion world is absolute buzzing with this promising new talent.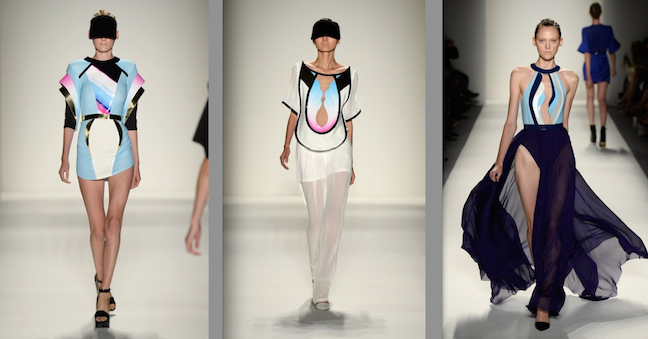 Story by Sarah Harris, KA MAGAZINE
Images : gettyimages.net / Mercedez-Benz Fashion Week