Like a vision out of an old, black and white Italian movie, Maison Matthew Gallagher's Spring/Summer 2014 collection swept us off our feet and transported us straight to the south of Italy from whence his inspiration came. Set against the projected backdrop of a brick entrance flanked by lush shrubbery, model after model came out in flowy, elegant and unequivocally feminine looks. If you are a woman of leisure who is living 'La Dolce Vita', this collection is for you.
In a predominately cream and pastel-coloured palette, the looks glided down the runway, undeniably sexy without being overt. Details such as ruffled skirts, low cut backs and plunging necklines oozed with girlish charm and sultry appeal while the silhouettes remained basic and just barely skimmed the female physique. Mid-show, Matthew turned up the heat by introducing blush pinks, cherry reds and a soft bejewelled floral-like print into the mix. While the lines of each garment were beautiful in their simplicity, one couldn't help but to admire the creative cuts the Milan-educated designer used to create each silhouette; mini skirts flounced away from the legs, tops billowed out yet cinched in at the waist, and the necklines were a modern take on the racer-back shape. The fabric looked luxe, well-tailored and perfectly suitable for a high society queen.
Styled simply in smooth chignon buns and oversized shades, the models strutted along to classic Italian tunes remixed with an electronic flair (a subtle reminder that we were NOT in fact cruising along the Italian Riviera as hoped). One of the clear favourites this week, this Nova Scotia-born designer is surely on KA's "one to watch" list.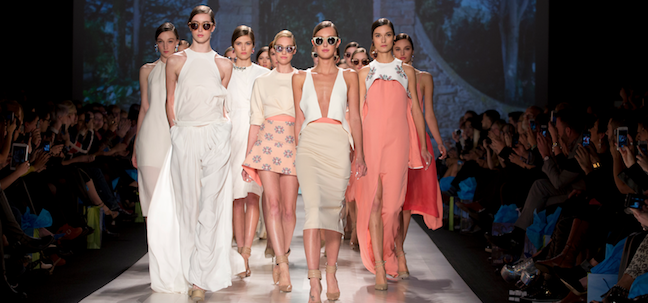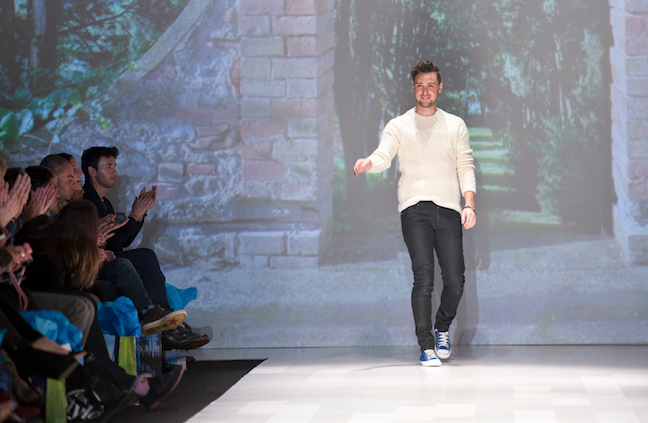 Story by Dayana Cadet, KA MAGAZINE