"Normal rules don't apply" – a fitting statement when it comes to Dutch designer and artist, Iris van Herpen. Known for designs that step far outside the boundaries of fashion and into her characteristically conceptual works of art, every collection speaks volumes.
A guest member of the prestigious Chambre Syndical de la Haute Couture, Iris' work reflects a modern take on high fashion, combining craftsmanship and innovation with her impeccable handwork and use of digital technology. "In all my work I try to make clear that fashion is an artistic expression, showing and wearing art, and not just a functional and devoid of content or commercial tool. With my work, I intend to show that fashion can certainly have an added value to the world, that it can be timeless and that its consumption can be less important then its beginning."
A non-believer in the old adage, "form follows function", Iris creates expressive shapes that take the lead, altering the body and driving the emotion behind each of her designs. Combing form, structure and materials together in ground-breaking ways, Iris is an expert interdisciplinarian, often collaborating with other artists (or even scientists) to create unique textile treatments and brand new materials.
A perfect example of Iris' genius is her most recent collection, BIOPIRACY. A mix of ready-to-wear and haute couture, it was presented with artist Lawrence Malstaf, a "specialist in the interaction between biology and physicality". Models hung, embryonic, in vacuum-packed human installations along the runway while their peers strode past in 3D printed designs made in collaboration with Julia Koerner. Fire opal beads gleamed through slashes of fabric while artificial fibres came alive, either tightly coiled, giving the impression of a writhing mass or dripping organically from the body, like running water – a stark contrast to their architectural counterparts. Dutch shoe company, United Nude, also played their part in the total reconfiguration of the woman's silhouette by creating molded, crescent-shaped boots as accessories.
Pondering the philosophical question of whether or not we are the sole proprietors of our bodies while simultaneously showcasing a series of stunningly sculpted sartorial pieces may not be what we typically expect from a fashion show, but as we've already discovered, Iris van Herpen is anything but typical.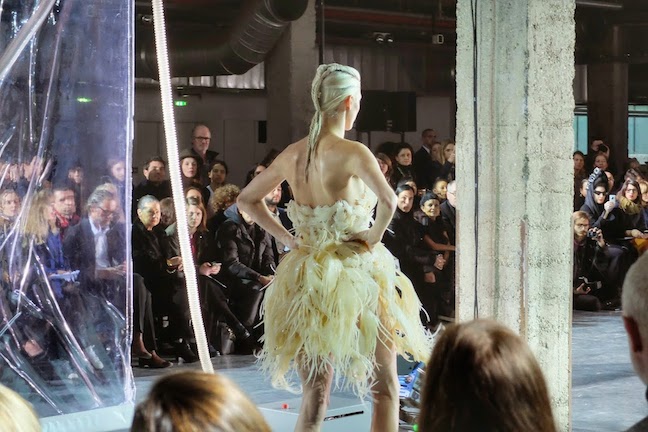 See more at irisvanherpen.com
Story by Dayana Cadet | KA MAGAZINE