Last Thursday night marked the opening of famed photographer Ellen von Unwerth's second solo exhibition at Izzy Gallery in Toronto. The night was celebrated as owner Izzy Sulejmani hosted a private event at the Yorkville gallery, with special guest Ellen von Unwerth herself (who gave a lively and uncensored interview to our own Jeanne Baker). The exhibition, entitled "My Way", is a curated  collection of von Unwerth's work, ranging from 2003 to present, all selected by the artist herself.
Twenty-seven pieces line the walls of the gallery, mixed digital and film, both color and black and white, these images all exude wonderful fantasy, playfulness and sexual intrigue. Moments captured between von Unwerth and her models – all women. "There is something about being only women in the studio, there is less thinking and more letting go. This is when the magic happens." Says Unwerth "I love women.  I love when they are proud of being feminine, sensual and empowered"  A few highlights include pieces of Drew Barrymore (Beauty and The Beast), Claudia Schiffer (Bonne Nuit) and Nadja Auermann (Devil in your Eyes) as well as photographs from von Unwerth's 2003 collectable photo-novella Revenge. When we asked what inspired her choice of pieces for this exhibit, she said: "Fairytales. The good and the bad."
As Toronto continues to evolve into a global financial player, the city is also beginning to flourish in the arts as well. Izzy Gallery is a Canadian pioneer in collaborating with some of the world's most successful contemporary photographers and iconic artists. The Ellen von Unwerth "My Way" Exhibition is open between Dec 11th 2014, and January 25th, 2015.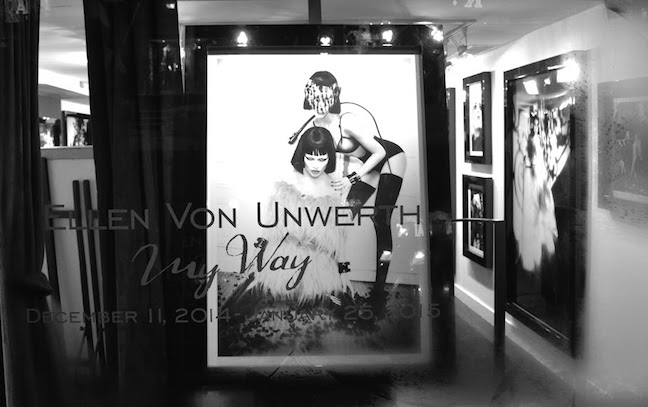 Story by Ashley King  |  KA Magazine
Photos by Savannah Somers  |  KA Magazine