Many of us are familiar with the trials and tribulations of shopping online; astronomical shipping fees, complicated returns and the frustration when even your favourite e-boutique doesn't carry your dream LBD. Avenue K is an expertly curated online shopping destination that is committed to curing Canadian shoppers of their e- commerce woes, one click at a time.
Having grown exponentially since their launch in October, Avenue K offers limitless luxury shopping to customers all over the world with a selection of 516 unique designer brands. With an incredibly diverse assortment of clothes, shoes and handbags to choose from, shoppers even have access to covetable fashion houses such as Isabel Marant, 3.1 Phillip Lim and Alexander Wang, just to name a few. Taking the online shopping experience up another notch is the in-house concierge service which shoppers can turn to in order to source items not currently featured on the website. "The Canadian consumer has a discerning eye and a unique perspective. She refuses to settle for a generic range of choice and will often toss on her detective hat or hop a flight to track down the handbag du jour," says Avenue K spokesperson and Canadian style icon, Susie Wall.
Built on the success of Tokyo-based e-commerce model, Buyma, Avenue K understands the many anxieties associated with online shopping and is working to create a truly global fashion experience, offering shoppers access to items previously considered beyond their reach. "With a quickly changing retail landscape, Avenue K recognizes the need for an experience that is uniquely Canadian. With national apprehension around online shopping including high shipping costs and inability to return, Canadians spend a mere 5.7% of overall retail sales in the online sphere. Of the 5.7%, two-thirds are spent south of the border with American retail websites. Our goal at Avenue K is to change those statistics", explains Alex Amin, Founder and Co-CEO of Avenue K.
Having partnered with Hearst Corporation and social shopping leader, Kaboodle, Avenue K recruits professional sellers of luxury goods who are then trained and monitored to ship to Canada at a fair and competitive price. Avenue K also guarantees authenticity and accepts returns on any items purchased (even if the seller does not) to further empower their customers and make the experience as pain (and guilt) free as possible.
"We are proud to work with our partners to create an experience that is meaningful to Canadians and will contribute to the growth of our global e-commerce presence." says Rafi Gordon, Founder and Co-CEO – as if we needed any more reasons to succumb to our itchy fingers and jump online, asap!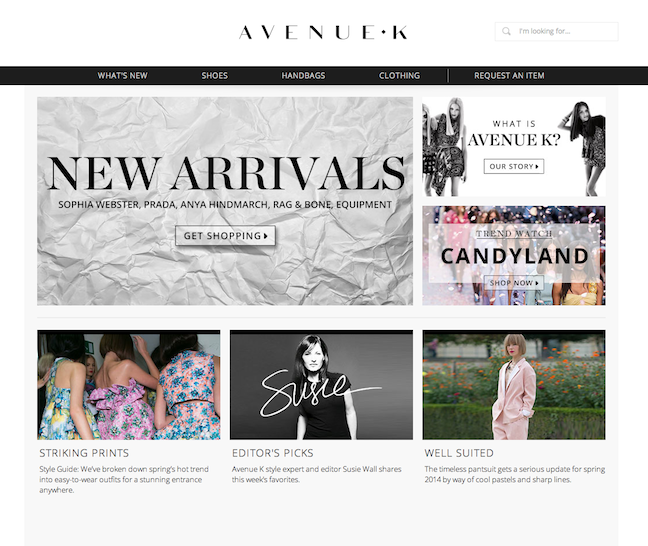 See more at AvenueK.com
Story by Dayana Cadet  |  KA MAGAZINE