This Friday and Saturday, June 8th and 9th, KA Magazine is proud to announce the long anticipated Art Show "AQUARIUS" by the incredible Artist / Photographer Natasha Kertes. The event will take place in Miami at the TSL Lounge and will display 19 photos, which will be hung outside the lounge, in a serene garden space, on a 30 ft tall wall, with  bright light, giving the exhibit a magical feel. The lights will shine through a waterfall created by Natasha herself.
When talking to Miss Kertes, she gave us a glimpse of her marine themed vision. In planning the exhibit, she came up with the idea to build a waterfall affect behind her photos, to reinforce the "Aquarius" theme, as well as create possibly the most original way to exhibit photography by having the art hang from fishing wire. The event is set to have an ocean vibe, focusing on creating a peaceful, and beautiful ambiance. Natasha Kertes has definitely paid attention to every possible detail, and we are quite excited to celebrate her art, as well as our KA Magazine's Vol. 6, which will feature both her work of Aquarius, and also her beautiful "In Bloom" Editorial, featuring Sudanese Model Anai Ekalino – gracing the cover of this very anticipated issue of KA. To keep the good vibes flowing, all proceeds from this week's event will be donated to the "Fund for Malaria in African Children" – a cause deep to both Natasha Kertes and Anai Ekalino's hearts – who will also be present at the Aquarius event.
Natasha Kertes is most definitely on the KA Radar as "One to Watch", and we invite you to see her incredible art in the glossy pages of KA Magazine Vol. 6 – The Design Issue, available as of June 15th, 2013.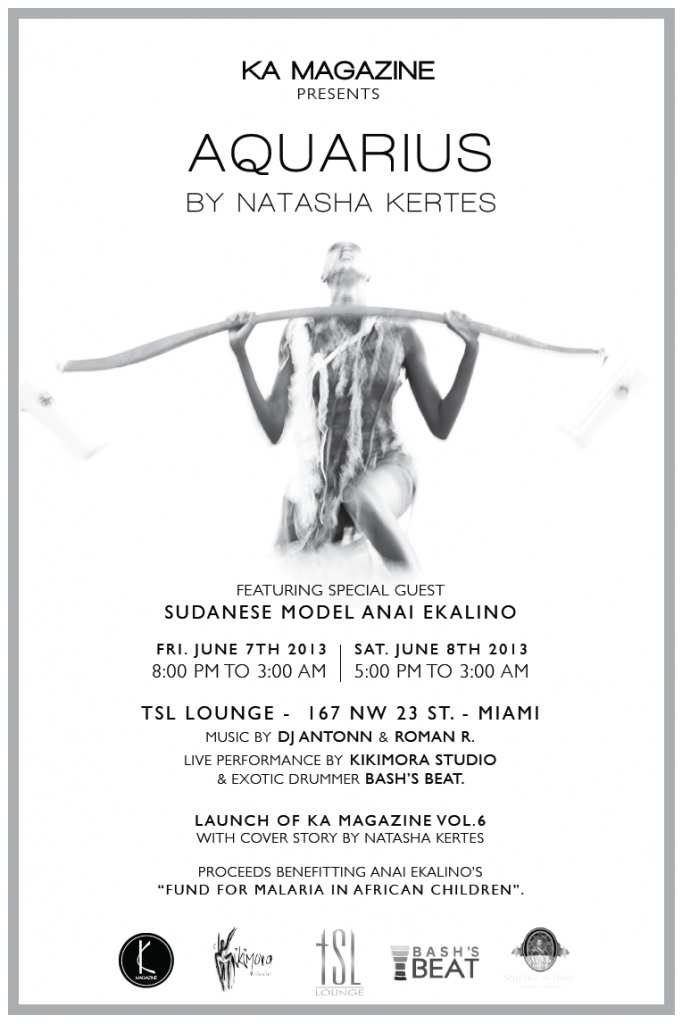 THE MAKING OF AQUARIUS