Adrian Wu, notable fashion designer has not only pierced into the fashion industry in two short years (starting at the young age of 18) but has also mastered the art of translating his skill to corporate leaders who understand the power of beauty and aesthetics. Creating a unique luxury design and using his skill in innumerable ways, Adrian will be showing his collection at the 2014 World Fashion Week in Paris, representing Canada.
Read on as we unfold Adrian's impressive route to success and brilliant mind – and see how all is conveyed into multiple creative endeavors signed- Adrian Wu.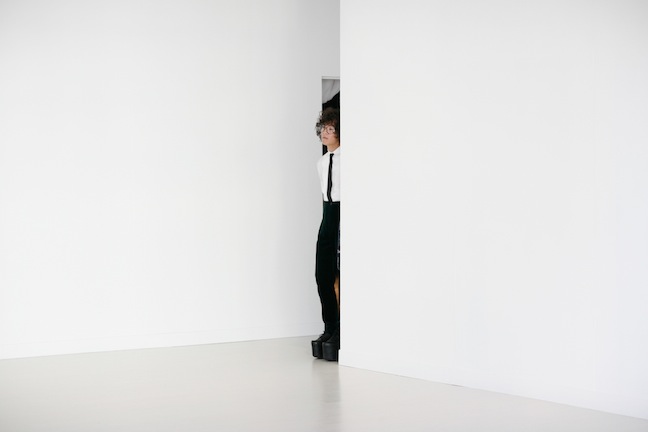 KA – What has been your driving force to build a successful fashion brand at such a young age?
AW – Driving force? Two things. A want to live a passionate life doing what I love and making a crap load of money doing it. It's interesting you say 'successful' because the western idea of successful and the eastern (in my case Chinese) idea of success are very different. I like to think it's about achieve something better one step at a time, that's success to me.
KA – Where do you draw inspiration when designing a new collection and what does this creative process mean to you?
AW – I don't really draw from inspiration, it's more about experience. In the past I have come up with the concept for a show two days before the show because I like to build on my ideas to come up with the finishing product instead of planning it out. That goes the same with the way I design clothing. I drape a dress on a mannequin and play with the fabric first hand instead of sketching it out because I find fashion illustration to be outdated.
KA – To have been chosen as the one Canadian designer to show at the 2014 World Fashion Week in Paris is such an accomplishment, how does it feel to stand alongside such established fashion houses?
AW – Well, to be honest it hasn't hit me yet because it hasn't happened yet. I think it's important to realize that I'm just your boy next door that happens to know how to dress make. Elizabeth Gilbert, the women who wrote Eat, Pray, Love did a TED talk on a new way to think about creativity. She speaks a lot about how in the roman times, a genius was not a term to define a great thinker, instead the romans believed that 'a genius' was something that lived in your house that fed you creativity. It wasn't until the renaissance that man started calling man genius. So I like to remind myself that, I don't need to think of myself as established, or accomplished because I don't want the anxiety that comes with the title.
KA – Which fashion houses and designers are you the most inspired and moved by?
AW – Dior. Christian Dior defined an era. He re-established what it meant to be a beautiful women. I like to think that one day I can change the way people think about beauty and maybe that's why I'm so moved by him. I'm online a lot, I'm actually a huge nerd. And if you've ever watched the video by spoken word poet Shane Koyczan "To this day" he speaks a lot about how the problems we have in life are less about pain and more about beauty.
KA – Adrian Wu, apart from being a visionary designer, provides "fashion design for the corporate mind"; how do you show your influential clients how they may benefit from aesthetically and creatively innovative presentation of their brand?
AW – How do I show it? I literally show them. Anytime a client has ever showed interest in my company I have typically created a proposal for them within a week outlining the ways fashion and creativity can help market their product. A good friend of mine is a well known in the architect community and I will always remember the best advice he gave me. If a client wants to work with you, make your ideas their ideas. Don't give them two options give them 20 options. Don't give them a reason to say no. I like to think that's how my business model has revolutionized over the years.
KA – How do you blend your creative vision and your clients' demands to present a brilliant product – and one that is truly signed Adrian Wu?
AW – How do I blend them? It's all psychology. I don't think it's about blending the physical tangible ideas and separating them. I think for me it's more about convincing them and myself that it's a good idea. I sometimes need to tell myself "It's okay to create something you don't like" I think I'm aware that even my ideas are subjective and not always right.
KA – What has made you decide to channel your love and talent for fashion into interior design as with your recent venture with Freed Management to design the interior of the 3rd floor lobby Fashion House Condo on King and how do you keep the same artistic appeal?
AW – I think everything I do will always have an artistic appeal even if it has nothing to do with art. I know that sounds like a contradiction but again, I think art has more to do with thinking than it does with feeling. As Warhol said, Art is anything you can get away with. This project with Freed was a great way to ingrain myself permanently into a future landmark of Toronto. I think this is why I wanted to be a part it, because when I die, it will definitely live on.
KA – Your creative direction of the largest Chinese Television Network in North America, Fairchild Television has yet again expanded your skillset. How do you translate your art to a new audience?
AW – I think it's hilarious that you found out about that project because I think the most interesting thing about working with Fairchild is the cultural difference between their company and the rest of Canada. I think it will translate well for the exact reason I love working with them, why? Because Chinese people understand respect. When I work with them, they give me complete control because they see me as the professional, and I really feel respected. Not to say that I don't feel that when I work with western companies but lets's just say that it's a collective effort without all the opinions.
KA – How do you apply your influential role as Chair of the Sponsorship Committee on the board of directors of the United Nations Association of Canada Toronto into your other endeavors and your everyday life?
AW – Wow, you really did your research didn't you? Yeah, when they asked me to be on their committee I was flattered, mainly because I was the youngest one out of everyone on the board. I think as the years go by I have become more socially conscious of the problems everyday people face. To be specific, kids my age that are typically still in school or just graduating struggling to find a full time job. I think it's unacceptable that in 2013 the unemployment rate for kids between 25-30 is above 26% and going up. How is no one talking about this? I think UNACTO has the ability to be a voice for youth, 'The New Adults' and get more social awareness around reforming education. So yes, it's something I think about…everyday.
KA – With so many projects continually on the horizon, how do you select which projects to take on next while keeping the essence of Adrian Wu?
AW – Fantastic question. You know why? Because you're letting me explain exactly why I think some companies fail and some succeed. I think the key is, standards. I think it's important to understand that, success maybe isn't all about achieving your goals. Maybe success is pure act of moving step by step closer to your dreams. I don't want to think there is an end point. For me to 'accomplish' things, I need to recognize that there is such thing as 'better', 'worst' and 'in between'. I like to think that I move forward because I pick projects that are better than the last and always remembering that Adrian Wu the company is about bringing creative luxury to the everyday person.
KA – Who is Adrian Wu?
AW – I'm a guy that believe that art can change the way people think. George Lois is my idol. He always said, creativity can solve any problem. You know what I say? Contradiction can solve any problem? How? By understanding that there is no right or wrong way to do anything, Everything is an approximation of the truth.
WATCH THE HIGHLIGHTS FROM S.S. 2013 WORLD MASTERCARD FASHION WEEK TORONTO
http://www.youtube.com/watch?v=Si9G2jhSjd0