For the conscientious shopper, it's not always easy to find companies that are willing and able to produce quality goods while keeping a close eye on the effects they have on the people and environment around them. Luckily for us, not only is Maiyet more than just a luxury label, it has been deemed a "geopolitical statement" – and a loud one at that.
Founded by Paul van Zyi, a South African human rights lawyer and Kristy Caylor, president of Band of Outsiders and previous manager of the Gap Red campaign, Maiyet is on a mission to create a unique yet design-driven fashion brand that celebrates rare artisanal skills. In its dedication to forging partnerships with its artisans, Maiyet has combined forces with Nest (an independent non-profit) in order to deploy customized training programs to help promote the creation of high-quality products, stable employment and financial welfare. This initiative extends to a variety of communities in Colombia, India, Indonesia, Italy, Kenya, Mongolia, and Peru.
The good deeds don't stop there. In addition to working with Nest, Maiyet has also appointed renowned architect David Adjaye to create and design a facility in Varanasi, India that addresses any and all existing issues for its weavers and artisans. Ultimately, this is to ensure the utmost comfort during the process of their craft.
Having recently shown in Paris, Maiyet's Spring/Summer 2014 collection is romantic and (of course) impeccably made. As per Kristy, "Our heroine is a spirit plucked from a Hemingway novel. She is strong willed, adventurous, sensitive, beautiful and at times a bit louche."
Sharply tailored yet effortlessly draped, unique yet timeless in nature, this collection was meant for "Someone who is captivated by the calibre of design and further inspired by the soul behind the work." Keeping with the brand's artisanal ethos, the line boasted intricate, handmade details such as silk embroidery on crisp shirt-dresses, a unique Shibori dyeing technique on chic slip-dresses as well as a couple pieces stamped with block messages such as, "No future without forgiveness" (the title of a Nelson Mandela book). In addition to their latest collection, lovers of the brand can also head over to Barney's New York for an exclusive capsule collection made primarily with limited addition Varanasi silk.
It is clear that Maiyet cares deeply about providing ethically-made, luxe-quality products while making a truly positive global impact. Let us hope that more companies and labels are able to follow in their fashionable footsteps!
FW 2013 Campaign with Daria Werbowy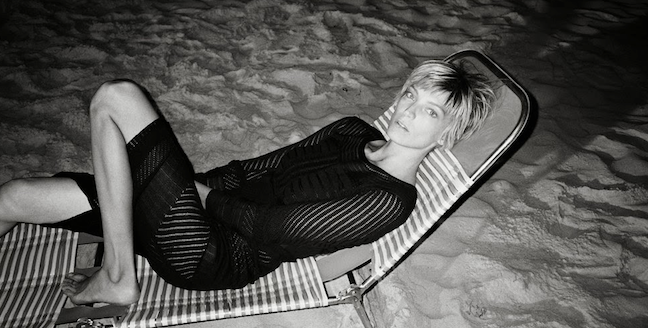 S.S. 2014 Paris Fashion Week
See more at Maiyet.com
Story by Dayana Cadet | KA MAGAZINE