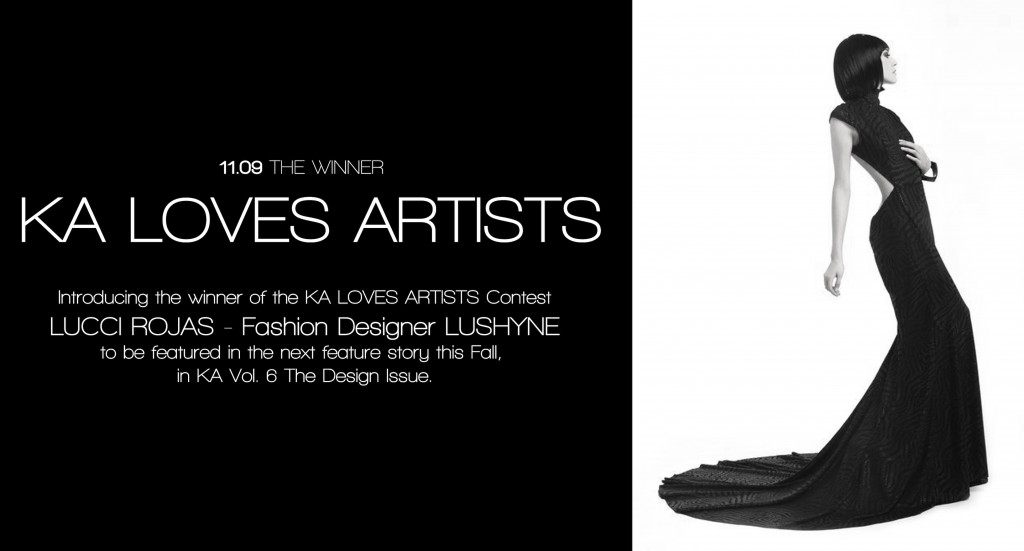 To all the amazing Artists out there who applied to the KA LOVES ARTISTS contest – You – ROCK!!!!
You guys did not make it easy on the KA team to make a selection of the winner. We are most happy to announce the winner of this the firs
t of KA LOVES ARTISTS contest …Featuring one Artist in the glossy pages of KA MAGAZINE Vol. 6. yeah!!
KA Magazine readers are seriously talented! Being KA Magazine we have to give props and a proper shout out to the other short- listers: on the KA Online Magazine.
AND THE WINNER IS…!!!! ("insert drum roll mp3 here")
*** WINNER OF KA LOVES ARTIST CONTEST ***
LUCCI ROJAS – FASHION DESIGNER "LUSHYNE"
SHORTLIST of 8 ARTISTS:
Lizzi – Artist Musician / Singer
Daniel Stanford – Artist Photographer / Art
John Viljoen – Artist Painter / Art
Sally Saifi – Artist Singer
Felix + Ginger – Artists Hair Stylists
Keithy Antoine – Artist Graphic Art
Vanessa Piunno – Artists Singer
Evelyne Fay – Artist Fashion Designer
Now go pop open the champagne!
Blessed,
KA