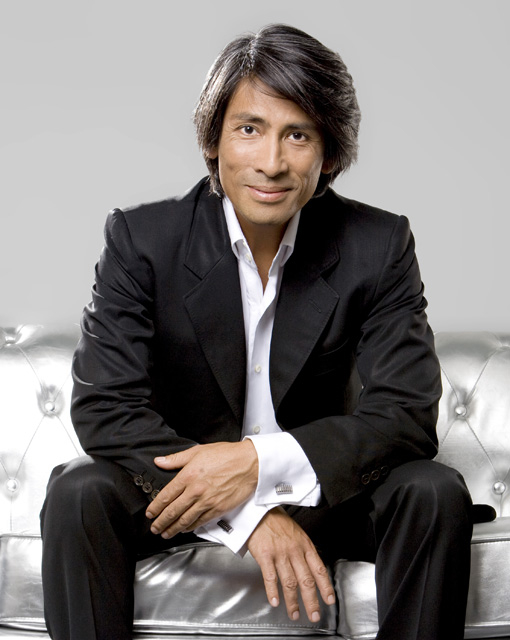 Dr. CHAHN TRAN TIEN
BALANCE
Every Pound has it's Story
www.trantiendiet.com
KA — Can you recall a single event that  created the most change in your way of living your life, a sort of fork in the road?
Dr. T — I was sitting on the sidewalk in a little Vietnamese village, finishing a small meal that was served to me by a traveling merchant.  I was waiting for a boat that was to bring me to Halong Bay. When it came time for me to pay, the old woman told me that I didn't have to, since it had been offered by the little girl names Xuan, who was sitting at a distance on the street corner.  I met Xuan about an hour prior, as she was selling little hand fans to tourists since it was such a hot time a year in Vietnam. I bought one from the little 10 year on Xuan, but as she told me the price, it was so low to me that without thought, I gave her a large tip. She must have thought it to be too much, as she then offered this meal for me in thanks.  As the boat left the port, I never got to see Xuan again. This chance encounter truly made me think, since I was the same age as her when my family and I fled from Vietnam during the war to live in France. Meeting this little girl fully changed my vision of life, and I feel that at that moment, I understood the true meaning of  humility and dignity. In fact, do you  know that Xuan means Spring in Vietnamese?
KA —  Vous souvenez-vous de l'événement qui a déclenché le plus gros changement dans votre vie?
Dr. T — J'étais assis sur le bord de la route en train de terminer un frugal repas que me servit une marchande ambulante.J'attendais le bateau qui devait m'emmener à la baie d'Halong.Au moment de l'addition,la vieille dame qui me servit me dit que ce n'était pas la peine de payer car le repas m'a été offert par la petite Xuân.Assise à l'écart,je ne l'avais pas remarqué.Je l'avais rencontré une heure auparavant en allant acheter mon billet pour le bateau.Xuân avait dix ans et vendait des éventails aux touristes. Au Vietnam,l'été est chaud et humide car c'est la saison de la mousson. Je lui ai acheté un éventail.Le prix était tellement dérisoire que j'ai du lui laisser,par inattention, un pourboire qu'elle a du juger trop important.Elle me restitua ainsi cette somme en m'offrant ce repas puis,avec un grand sourire, elle m'accompagna jusqu'au bateau pour me désigner une place à l'abri en m'affirmant qu'il allait certainement pleuvoir. Le bateau quitta le port et je ne l'ai jamais revu.J'avais le même âge qu'elle quand nous avions fui la guerre,avec mes parents, pour arriver en France.La rencontre avec cet être changea radicalement ma vision de la vie,je crois avoir compris ce qu'est l'humilité et la dignité. Au fait,savez vous qu'en vietnamien,Xuân signifie le Printemps?
KA — How do I create a healthy in- balance to facilitate a stable body weight?
Dr. T — In life, no balance is reached without action. It is simply the result of a constant effort. This balance also cannot be found without the notion of having a good time in the process. For example, if we do not find happiness at work, we seek to change jobs, same goes for relationships and friends.  Happiness is the very basis of all life personal balance.  This is also true for any loss or maintenance of a stable weight. How do we find happiness with a body that we do not love? Before all, we must choose to love ourselves in an unconditional way — the same way we would love our own child. If this is not the case, our inner-balance is only an illusion that will be thrown off once any minor problem arises in our life.
KA — Comment dois-je créer un bel équilibre interne afin de jouir d'un poids stable?
Dr. T — Dans la vie aucun équilibre n'est acquis à l'avance.C'est le résultat d'un travail permanent. Aucun équilibre ne peut être obtenu et maintenu durablement sans la notion de plaisir.Dans un travail ,par exemple,s'il n'y a pas de plaisir,on essaie d'en changer.Malheureusement,on peut dire la même chose aussi pour le couple ou pour les amis.Le plaisir apparait comme la base de tout équilibre.Ceci est aussi vrai pour la diététique que pour le maintien d'un poids stable et durable. Mais n'oubliez pas qu'avoir du plaisir et satisfaire un besoin,ce n'est pas du tout la même chose. Mais comment avoir du plaisir avec un corps ou un poids qu'on n'aime pas? Par conséquent et avant toute chose,il faut avoir le courage de décider de s'aimer tel qu'on est d'une manière inconditionnelle,comme on pourrait aimer son propre enfant.Si ce n'est pas le cas,l'équilibre interne n'est qu'une illusion éphémère qui sera ébranlée dès la survenue du moindre problème dans la vie.
KA —  In all the seminars that you have done what do you feel is the most common thing that needs to be changed to create a healthier mind body connection?
Dr. T — It seems to me that main thing to change would be fear. It's been said to me once that the opposite of love is fear, not hate.  I fully agree with this notion, as we cannot love if we are afraid of loosing it.  I often meet people who are afraid to love and to love themselves.  In fact, so many people I meet are actually afraid of life itself.  Fear keeps us from living in harmony with ourselves and others, which in a way, is the barrier to joy.  Lately, I find that people focus so much on world epidemics, crisis, and ecological catastrophes. Although I do not negate this very important reality, I believe that these situations should never shift our focus away from living in the present moment everyday.  When it comes to our weight, it is impossible to loose weight without love for ourselves, and it's also harder to love ourselves if we are afraid.
KA — À travers tous les séminaires que vous avez donnés, quelle est la chose commune à tous qui doit être changée  pour créer une connexion corps-esprit saine?
Dr. T — Il me semble que la chose à changer soit la peur.Quelqu'un a dit très justement que le contraire de l'amour,c'est la peur et non la haine. Je suis entièrement d'accord avec cette idée.On ne peut pas aimer une personne que l'on craint. Je rencontre souvent des gens qui ont peur d'aimer,qui ont peur de s'aimer. En fait beaucoup de personnes ont tout simplement peur de la vie. La peur nous empêche de vivre en harmonie avec nous même et avec les autres.Quelque part c'est une barrière au bonheur. On ne parle aujourdhui que d'épidémies,de crise ou de catastrophes écologiques.Je ne nie pas la réalité de ces phénomènes mais cela ne doit pas nous empêcher de vivre l'instant présent. En terme de poids, il est difficile de perdre du poids durablement,si on ne s'aime pas.Et il est difficile de s'aimer si on a peur de soi même ou de la vie.
KA —  It seems that there is shift in health where 40 is the new 30 what in your opinion is the cause of this slowing down of age, and how do you think we can help this process along?
Dr. T — It is true that with the progress of modern medicine, that people in their 40's seem younger than ever before. However, we cannot simply rely on appearances, as we can be old at 25, just as we can at 70. True youth resides in our hearts and not in botox or esthetic surgery! As time seems to pass and we go through so many challenges, our horizon has a tendency to shorten, and we go through life as if walking through along hallway or maze. To stay young, one must renounce the past and fully live in the present as well as focus on the future, regardless of age.  In fact, it is also not so true that we live longer now than before. Did you know that because of weight problems and their effects on our health, that a child born today in an industrialized society will not live as long as his parents? This said, we cannot confuse the search for happiness with eternal youth.
KA —  Il semble qu'il y ait une nouvelle réalité en ce qui concerne la quarantaine étant la nouvelle trentaine.  Quelle est votre opinion sur la cause de ce ralentissement d'âge et comment croyez-vous que nous pouvons aider ce processus?
Dr. T — C'est vrai qu'avec les progrès de la médecine ,aujourdhui à 40 ans on parait plus jeune qu'autrefois.Mais il ne faut pas se fier aux apparences,nous pouvons être vieux à 25 ans et être jeunes à 70 ans. La vraie jeunesse réside dans notre coeur et non dans le botox ou la chirurgie esthétique!Avec le temps qui passe et les épreuves rencontrés,notre horizon a tendance à se rétrécir et nous avançons dans la vie comme si nous marchions dans un couloir ou un labyrinthe.Pour rester jeune,il faut renoncer de vivre dans le passé mais regarder vers l'avenir,quelque soit l'âge. Par ailleurs,il n'est pas tout à fait vrai que nous vivions plus longtemps qu'avant.Savez vous qu'à cause des problèmes de poids et des conséquences sur la santé,un enfant qui nait aujourdhui dans les pays industrialisés,vivra moins longtemps que ses propres parents? Il ne faut pas confondre la quête du bonheur et la quête de l'éternelle jeunesse.
KA —  When we are emotional we tend to eat our emotions, saying don't eat your emotions is not a solution, if the emotions are involved what would be the best way of satisfying this craving , and how would you eat for emotional balance?
Dr. T — There is no real diet to balance our emotions. It is in fact the opposite : our emotions push us to eat. This is why our way of eating is the consequence and not the direct cause of our emotions. An eating disorder is always the reflection of a disorder in one's life.  The solution can thereby not be found in a mere diet, since there does not exist any anti-depression or anti-stress diets.  If you however find balance in  your life, automatically you will not "eat your emotions". And to reach this, each must find their own way, as no one knows the secret to happiness.
KA — Quand nous vivons des émotions, nous avons tendance à manger nos émotions. Simplement dire "ne mange pas tes émotions" n'est pas la solution.  D'après vous, quelle est la meilleure solution pour satisfaire ce désir ardent lorsque les émotions sont vives et comment mangeriez-vous pour retrouver une balance émotionnelle?
Dr. T — Il n'y a pas de façon de manger pour équilibrer ses émotions.C'est tout à fait l'inverse qui se produit.Ce sont nos émotions qui nous poussent à manger.Notre façon de manger est la conséquence et non la cause de nos émotions.Un désordre alimentaire reflète toujours un désordre dans la vie.La solution ne peut pas se trouver dans une quelconque diète..Il n'existe pas de diète anti-dépression ou de diète anti-stress. Si vous parvenez à trouver l'équilibre dans votre vie affective,automatiquement vous ne mangerez plus vos émotions.Mais pour cela,chacun doit trouver sa voie car personne n'a le secret du bonheur.
KA —  What are you reading these days.  How do you choose the books you buy?
Dr. T — Right now I am reading "Pays des neiges" by Kawabata. In general, I don't actually buy books for myself, they are usually offered to me by friends. And when I love a book, I buy it so I may offer it to someone else I love. This is a form of sharing that I truly appreciate.
KA — Quel livre lisez-vous ces jours-ci, et comment choisissez-vous les livres que vous achetez?
Dr. T — En ce moment,je lis "Pays des neiges" de Kawabata.En générale,je n'achète pas de livres pour moi,on me les offre.Et de même, lorsque j'ai aimé un livre,je l'achète pour l'offrir à mon tour à quelqu'un que j'aime. C'est une forme de partage que j'apprécie beaucoup.
KA — What are 3 things you would change on the planet given three wishes?
Dr. T — I personally  believe that no one has the mission to change the world, but everyone can bring something special in this life that we all share. If you look at the Tibetan monks or the Taoist Sajes, none of them believe they will change the world, they simply seek to find peace within themselves and those around them and their environment. If everyone did as they do, the world would automatically change.  But let's not rush things, as we cannot forget that time is relative, and maybe our perception of time is only an illusion?
KA — Si vous aviez trois souhaits pour changer certaines choses sur la planète, quels seraient-ils?
Dr. T — -Je crois que personne n'a la mission de changer la planète.Chacun peut apporter une petite pierre à ce grand édifice qu'on appelle la VIE. Voyez les moines tibétains ou les sages Taoïstes,aucun d'entre eux n'a la prétention de changer la monde.Ils ne cherchent qu'à être en harmonie avec eux mêmes et avec ce qui les entoure,c'est à dire avec les gens et avec leur environnement.Si tout le monde faisait de même,la planète changera automatiquement.Mais ne soyons pas trop pressés,n'oublions pas que le temps n'est qu'une notion relative.Notre perception du temps qui passe n'est peut être qu'une illusion?