Every once in a while, when taking a stroll or amongst the city crowds…we see a special light being. Unlike most, we don't just stare and walk away – no, no – we say "Hey! What's your name – would you like to be photographed?…" Ok, so it wasn't quite that literal, but almost. Upon meeting Alexandra, we knew there was something special about her, and at KA Magazine we feel it is our duty to spread the light.  Not only is she stunning, this girl can dance! Read on.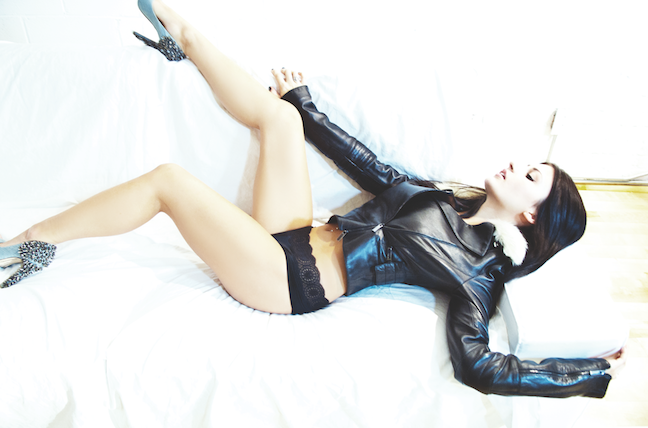 KA – We met you totally by accident, strolling in the Atwater Market wearing the cutest lace beige shorts; and immediately said, this girl has to be photographed. Do you have many chance encounters like this.
AP – Not really! It's pretty amazing that we happened to both be there at that very second. The few times I have had chance encounters, they led to great things. If it's meant to happen, it's meant to happen.
KA – You are the reason that KA has decided to start the girl on the street series; where we, by chance meetings, find interesting women doing their thing and we strike up an online conversation. So what do you have to say to that Ms. Alex.
AP- I think it's unbelievably exciting. I've already experienced so much with Nevik and KA Magazine, that I never would have had the chance to do if it wasn't for our crazy run-in. There are a lot of really intriguing people that pass by us every day—this is a pretty cool way to meet a few of them.
KA – You are a student presently, tell us more.
AP – I am! I'm going into my final year of studies at McGill University. I'm taking a large variety of things, but I'm majoring in International Developmental Economics, and double minoring in Marketing and English Literature. There are so many subjects that I love, and it was really hard to just choose a few. I guess that makes me a total nerd.
KA – Where would you love to dance if you had a wish?
AP – I couldn't choose one location. Often the most special dance moments happen in a quiet, simple place; while others are on a stage with flashing lights in front of 20, 000 people. You can't predict when and where the movement will touch you and change you and that's really what dancing is about for me.
KA –  What is your favourite story in KA magazine Vol.6?
AP – I loved reading about Hannah Rose! She has an intelligent mind for her age and she's crazy creative. She reminds me so much of myself when I was younger; as I was always making my own clothes and liked to think of myself as a young, passionate activist. I admire that she has done something about what she believes in, because so many of us forget the morals we have as children.
KA – How would you describe your fashion style.
AP – Flexible, but my motto is "look good feel good." No matter what the occasion is—an exam, family dinner, morning coffee, or interview—I need to look fabulous to feel fabulous! I'm a firm believer that you have to dress for success. Having said that, I love clothes and trying to create a "look." I'm not the type of person who can stick to one style, because I'm always craving something new and exciting to wear. If I want to feel pretty and summery, I'll wear feminine lace with a floral top, or, if I need to kickass one day, I'll throw on my studded heels, skinny jeans, and a leather coat. I'm proud to say I can rock punky schoolgirl by day and sophisticated, sleek woman by night – all depending on my mood!
KA –  Have you discovered any great music that you would share with KA?
AP – I am always finding new artists, so it's really hard to choose just one! But I recently heard "Unaware", by Allen Stone. Specifically, a YouTube video 'Live from his Mother's Living Room." I love that they filmed the video there, because you can tell that the artist feels so natural and literally 'at home' while he's singing. The song is emotional, and raw… and amazing!
KA- How important is love to Alexandra.
AP – Very.
KA -Where in the world would you volunteer to help and what would you do?
AP -If I could choose anything, I'd definitely teach dance to women in India! It is only recently that females are beginning to be empowered and have a chance to dictate their own lives. I'd love to give them an outlet that they can call their own. Dance is a positive way to have awareness of, and authorization over, your own body; which I think is extremely important. It also would give these women a time and place to forget about any stresses or hardships they are currently battling.
KA – Your photos for this story is crazy good, did you lie and are you a model by night?
AP – I promise I've never been a model before! That's unbelievably flattering for you to say, so thank you.
KA – Who is Alex and can we keep you?
AP – Who am I? That's the million-dollar question for most, isn't it? I'm quirky and creative, but quite shy—I try to make up for my introvert characteristics, by my often-bold apparel. My whole life I've been involved with dance, singing, and the arts, and I know that will always be a part of me! I don't let very many people in because my heart is a sacred place to me, but those that I trust; I love with every inch of my soul.