Last week, KA Magazine enjoyed some R&R along the St Lawrence River; looking out onto the most stunning view of the city, while lying in hammocks and breathing in sweet essential oils. There is only one place in Montreal, where this is even possible to experience: BOTA BOTA.
The space, designed by Sid Lee, is architecturally cool and modern with general tones of grey, black, white with wooden accents – yet it still carries throughout, a feeling of warmth – just as a spa should.  Maybe it is the music, the incense burning or the friendly smiles – as one is immediately in a feel-good state.  For the short time we spent at Bota Bota, we truly did feel like we had escaped miles away from the city stress, only to find ourselves floating on the river, gazing restfully at the beautiful city we thought we had left.  As we enjoyed the healing energies of the river, and detoxed in the water circuit, our senses were truly awakened; and understood exactly why, owner Genevieve Emond, insists this be a way of life. KA Magazine sat with Miss Emond as she passionately expressed her vision for the spa on the water concept – the first, and only one in the world.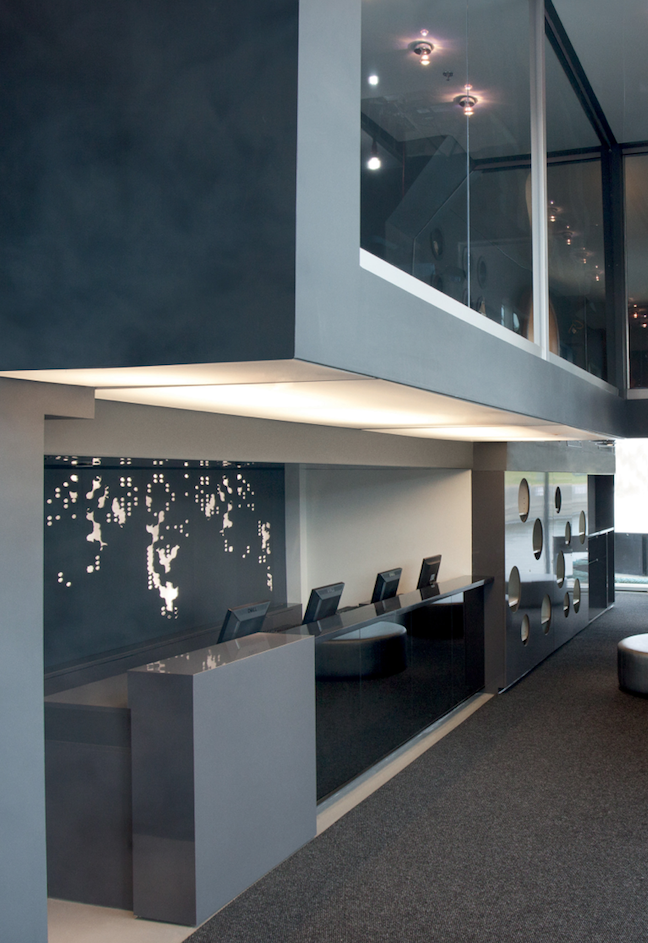 ©: Bota Bota
©: Sid Lee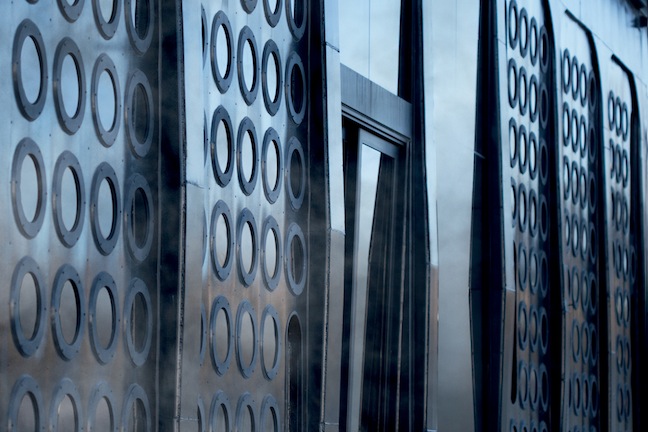 ©: Sid Lee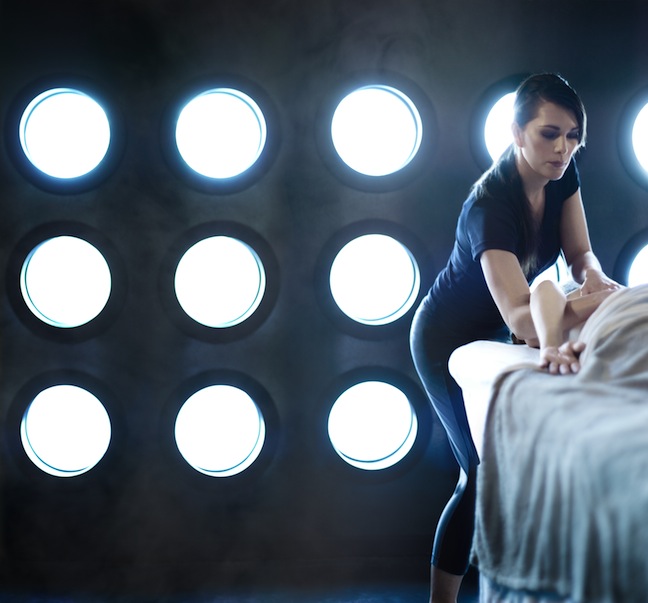 ©: Bota Bota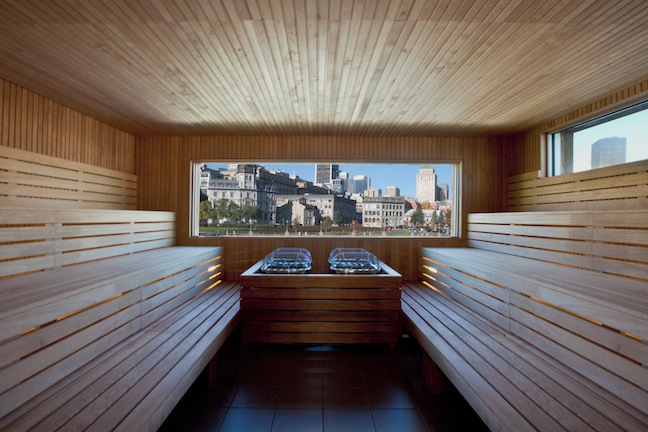 ©: Bota Bota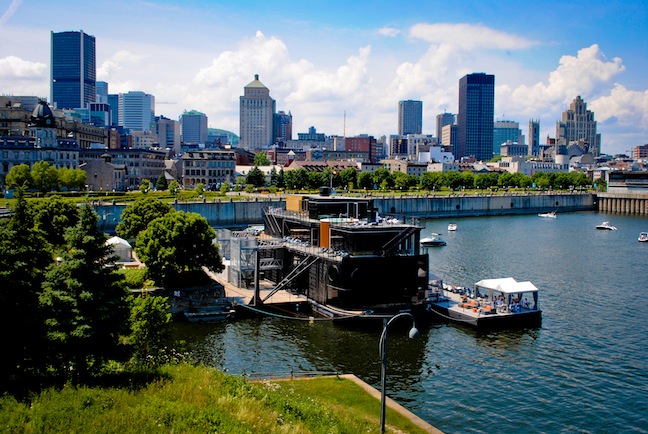 ©: Shawn K. Benet
KA – Can you tell us a little about the process of converting a 25.000 square foot ferry, into the world's first spa-on-a-boat?
GE – From the moment we laid eyes on the boat, we knew we had our space. It was once a floating theatre, and thus we had to start the remodeling from scratch. Completely excited about our newest prospect we started building from the very moment we found it, and our soon our vision was born. What we wanted was not possible in the city, and that was why the process of finding something to house our dream was quite something. We knew that the city could not afford us a space with the installations we envisioned, and we wanted to create a tranquil locale in Montreal that was like no other. Of course, there is no place more serene than by the water, so inventing a space that took our list of must haves on a boat came to be. When we salvaged the boat, we had learned that it was also at one point a floating art centre that was toured by artists, and a spot where the in love tied the knot. This place has a lot of history, and perhaps serves a vessel of memories for people in this area. They can now see the revitalization in all of its glory and perhaps invite the new space into their hearts.
KA – What is the coup de foudre treatment at your spa?
GE – We have both a treatment, as well as an installation that can be both the coup de foudre. Our signature treatment is the Bota Bota Choreographed massaged, a unique experience whereby guests can enjoy a luxurious massage which listening to a choreographed harp. Our harpist Anabelle is exceptional, and we met her during our construction phase while we were enrolled in classes that helped us to better understand our treatment offerings. Anabelle offers her harpist harmonies in two ways, both recorded and live. The massage is beautiful, along the water, floating away into the abyss with sounds of music working simultaneously with the therapist. Along with our treatment, another standout is our floating terrace. Guest are invited to eat and drink along the river. The accept bookings for the space, as well as the restaurant, but during the day it is reserved for our spa cliental only.
KA – You made the bold decision of removing the ferry's engines to build underwater change rooms; making the boat still. Can you tell us what triggered this idea?
GE – Balance is everything, perhaps in life and most definitely on a ship. We had to ensure that the foundation was leveled, so we had to select materials that were of lightweight and durable. If we had kept the motor, our creation would not have come to be, as we did not want the ship to move. As well, we wanted to keep our vision as green as possible, so our heading is geothermal which is essentially energy from the river. Not having the ship docked would mean sacrificing our eco-friendly options, as well as guests catering their visits around our schedule and not vice versa.
KA – How was it like, working with Sid Lee?
GE – The experience was sensational, as at first we started with architecture and then we moved into marketing our vision with their incredibly talented team. The full services they provide are both cost and time effective, and our visions were both cohesive and in line with one another.
KA – Tell us about the process of running BOTA BOTA as a family business.
GE – Running a business as a family is another challenge in its own right. Of course everything is running smoothly, because there is a lot more loyalty the goals are long term. You are thinking about the legacy you want to leave behind for your children and family. I am here everyday, as is my father – except during the colder months, when he prefers to be away in the Miami sun.
KA – What is the ultimate feeling that you wish to have your guests leave with?
GE – We would ultimately love our guests to feel as though they just came back from a weekend getaway. We invite them out time for themselves, and to unwind in the midst of a hectic city. I truly believe the services we provide can make our guests feel at peace, and of course we have a little help with the garden outback and the water. A friend told me that after her husband left Bota Bota – a man who does not frequent spas often – and arrived back home boasted about how he was feeling incredibly relaxed, and had a sense of peace, a feeling often associated after one returns from a vacation. We wish to integrate this into people's lives, and treat it as a healthy experience rather than a luxury. This is a way of life in Scandinavia, and I wish to bring the joys of regular pampering to the streets – or water rather – to Montreal. As well, our services are not just catered to women, as we have people of all backgrounds including professional athletes who frequent Bota Bota.
KA – Close your eyes and imagine pointing your finger to anywhere on the globe, for your next spa location on the water – where would this dream place be?
GE – Ahh, I mean I envision so many spectacular places, it could be anywhere really. The question is, would I pick a place based on where I want to live, or a demanding market? Naturally I would say Toronto, because it would be a perfect fit, but I would also love for this concept to be in New York, or even Singapore. I do know that if we were to open up another Bota Bota it would not be in Quebec, as the concept is already so unique in this area, we want to think bigger.
KA – What is next for Bota Bota?
GE – At the moment, we have a couple of projects on deck. We would love to create a floating pool, as well as some other small expansions in order to take full advantage of the space.
For More Information :