Flash back: It's January 2012 and Chanel is showing it's lat- est show in …. an airplane ( actually a replica ). Karl Lager- feld is showing his latest couture collection on an airplane in the middle of the Grand Palais, no less. This, his latest coup de foudre, took an astonishing five days to complete. The air Chanel plane with stewardesses, were naturally wearing Chanel couture. This was definitely a flight and show that quickly became one of our favorites. Designer Karl Lagerfeld told the Telegraph's Lisa Armstrong, "I love flying. It's the one time I can escape. I don't have to talk; everyone around me is watching screens. I can be alone. It's perfect."
Fast forward now to 2015, with so many major brands global reach becoming more and more ever-present; there are megawatt shows being staged in places that as short as a few years back, would have to contend with watching re- views on Youtube. Fashion has become a traveling show and Chanel is no stranger to this trend and might actually be the spark setting off this global movement. With its shows from Moscow to Seoul, to Dallas, Rome and Salzburg; the House of Chanel has staged major shows in each of these cities.
No wonder Karl Lagerfeld has airports and airplane on the mind, and if you are Karl Lagerfeld, what would be the next step after building your own Air Chanel? You guessed it: build your own airport, of course.
The Chanel Aéroport is a Chanel (reimagined) replica of the Aéroport Paris Cambon. We are brought into the vision of
how air travel would be if we lived in a Chanel world, where Chanel Airlines is complete with Chanel luggage, trollies, pleasant staff at check-in desks, handsome coiffed luggage handlers and one gate; gate No.5. Once again set in the Grand Palais, Lagerfeld's vision of the airport lounge experi- ence is exquisite. Yes, the whole lounge is first class and yes, all the passengers are wearing Chanel RTW, but what a de- parture from reality, if only for a moment, back to a time when traveling did not mean taking off your shoes and body scans.
The travelers in the Chanel show were impeccable and the scene was detailed to the screen announcing a couple of delays. The looks were classic with tweed skirt suits, some with pencil skirts and dropped shoulder jackets, others with cropped three quarter sleeves, but all the looks had an edgy, (yes we are the 21st century feel) to it. There were track pants and united skirt and sweater combinations. The look with the baseball caps turned around with mirrored aviators brought to mind young starlets traveling commercial, fully prepared for the intrusion of flashes at their destinations.
The layered looks were genius, at once showing the ease of the House and as well playing into the scenario of the life of a modern traveler, who would rather wear it, than pay the extra for luggage weight restrictions fees. The theme of traveling by air was so precise in this show that even the soles of the shoes (platform sandals) were lit up, depicting the lights of the runway.
Chanel airport, Chanel airlines, Chanel city. Why not?
Story ASHLEY ALLWOOD
Photos Backstage BENOIT PEVERELLI
Photos Runway OLIVIER SAILLANT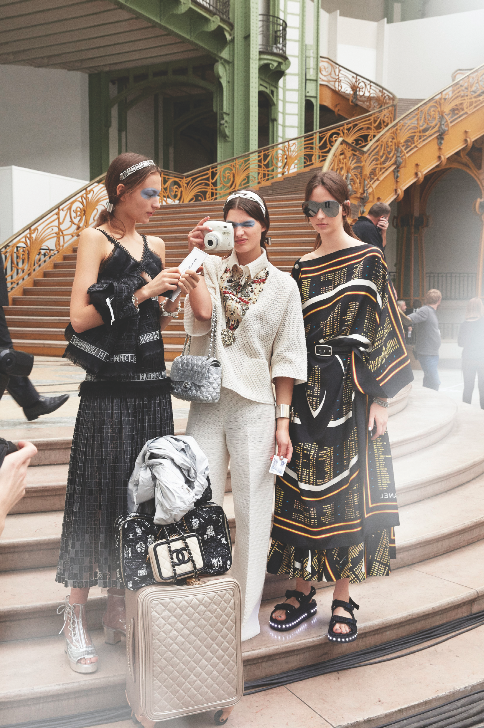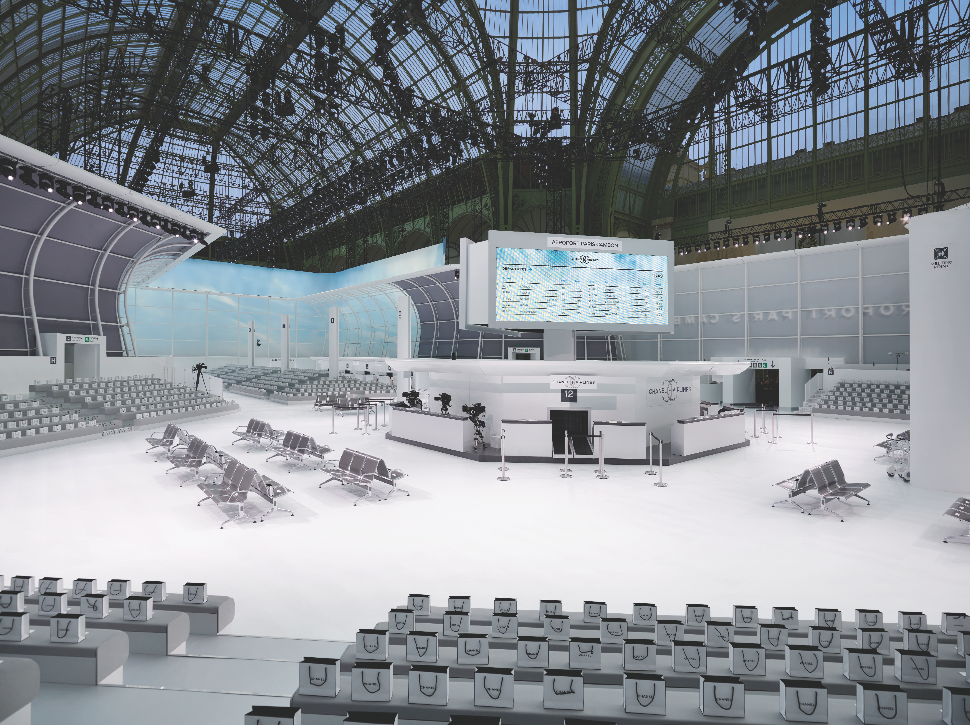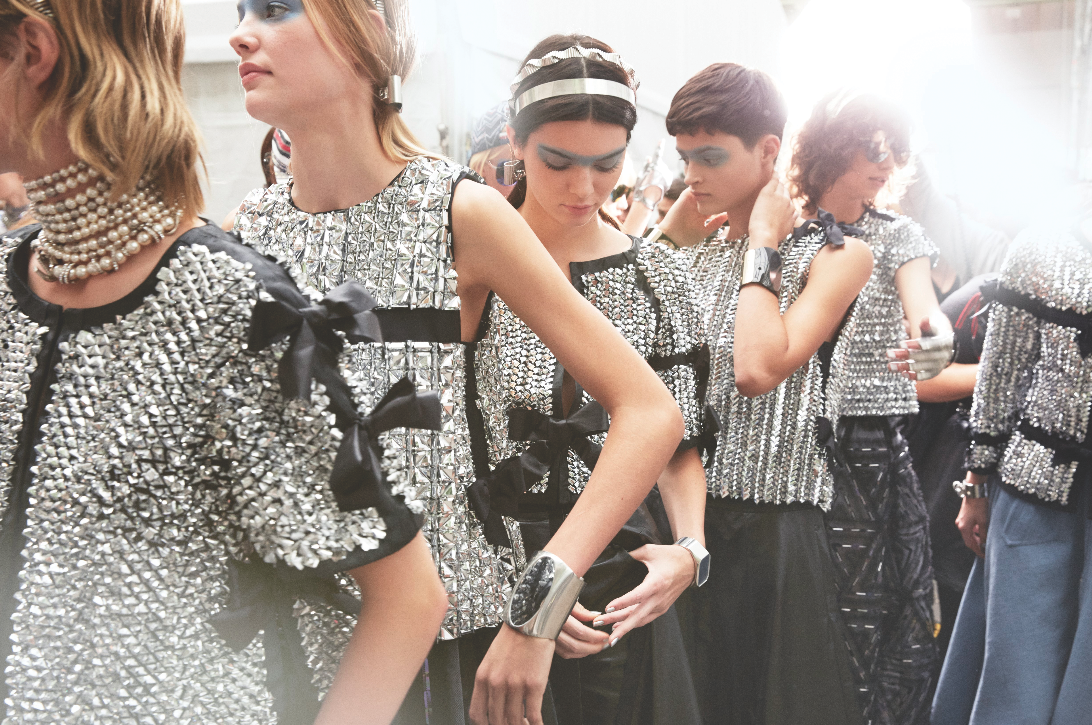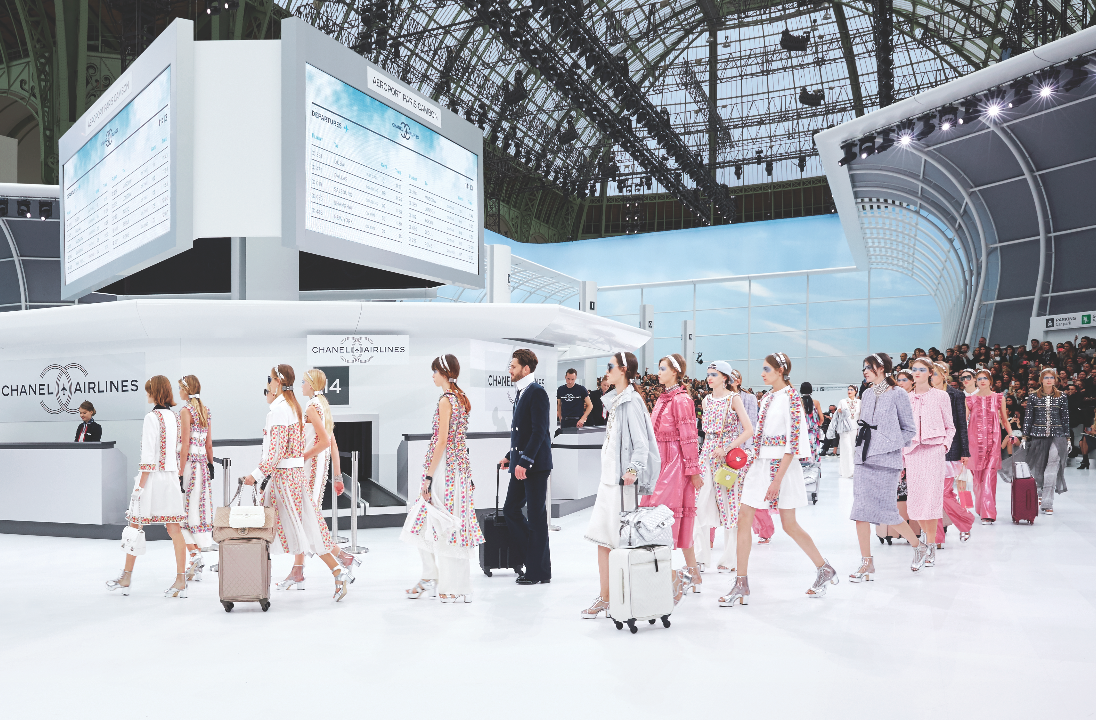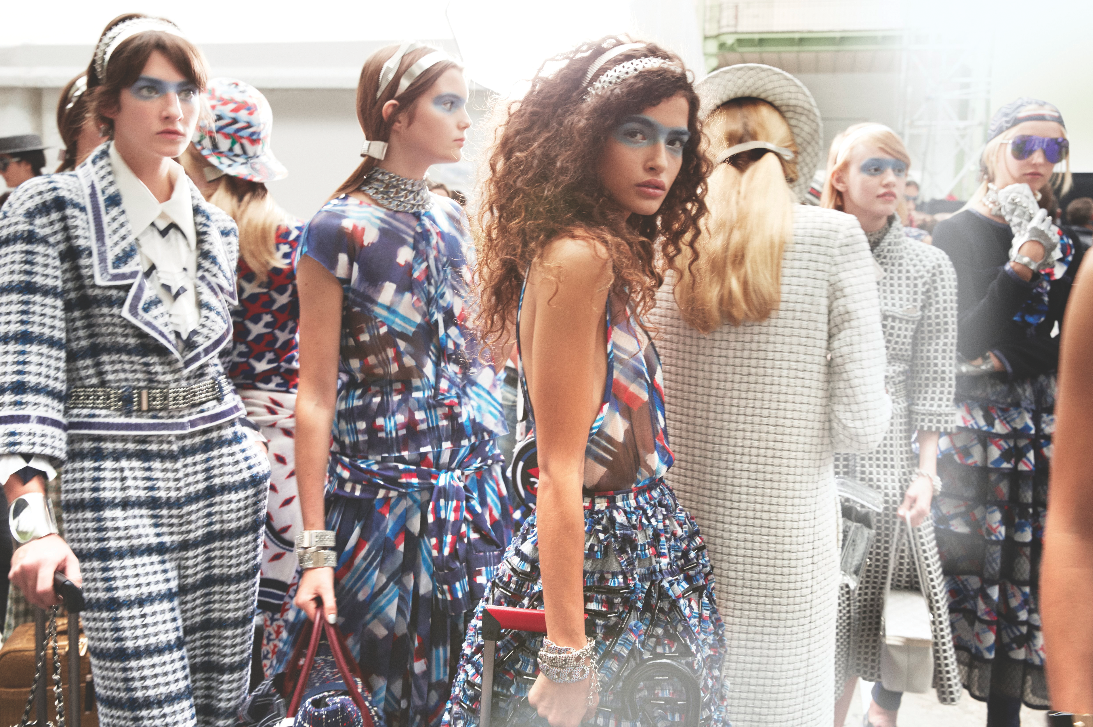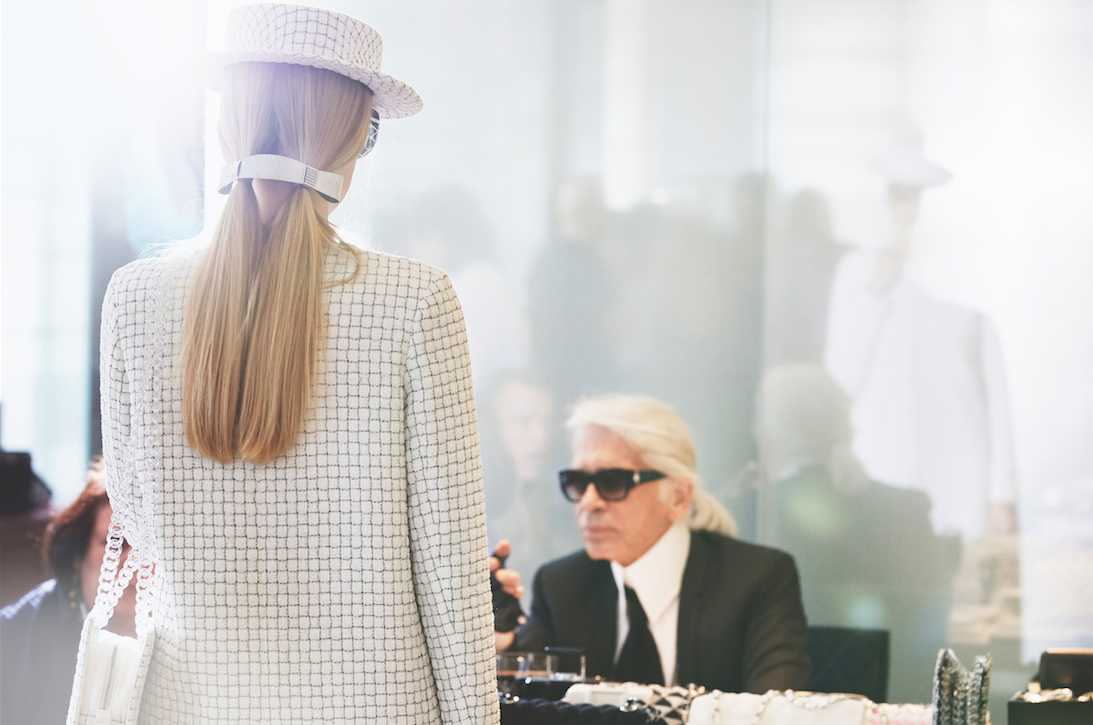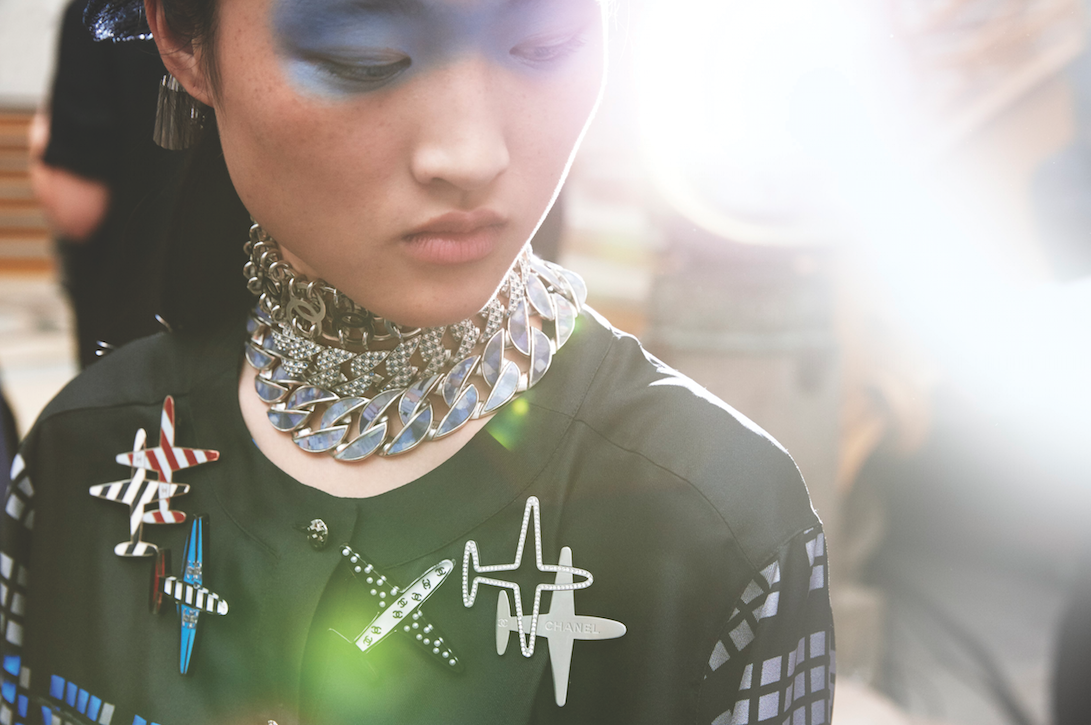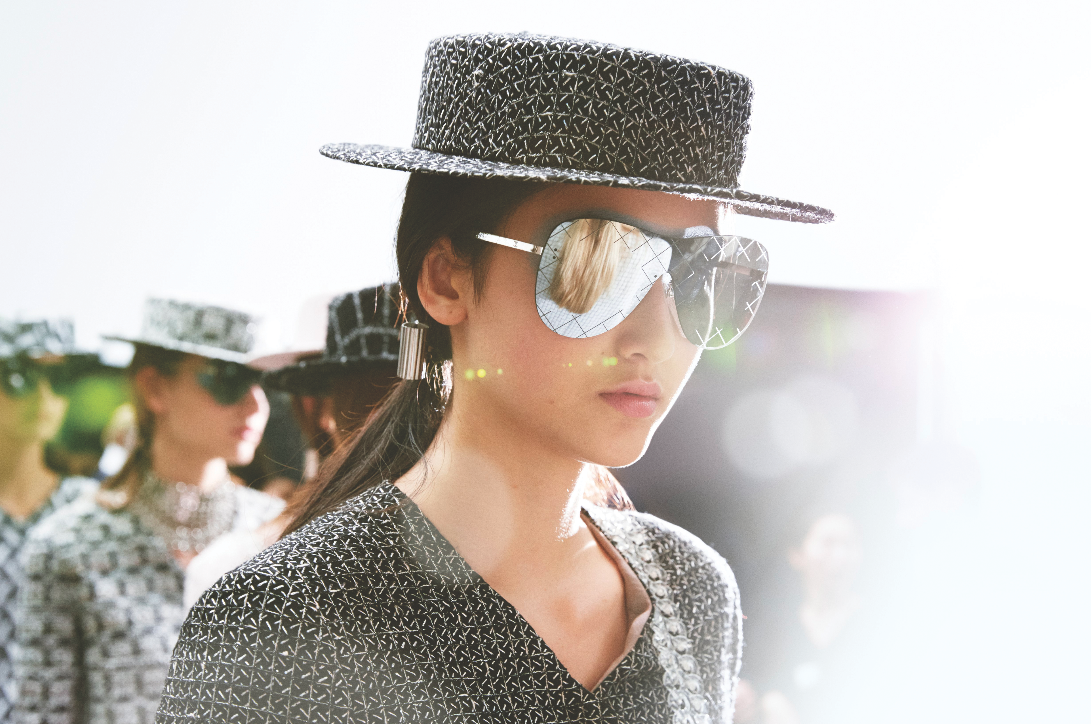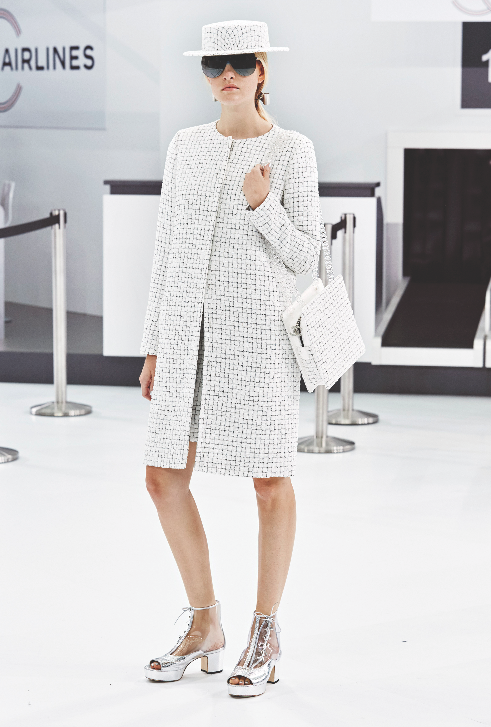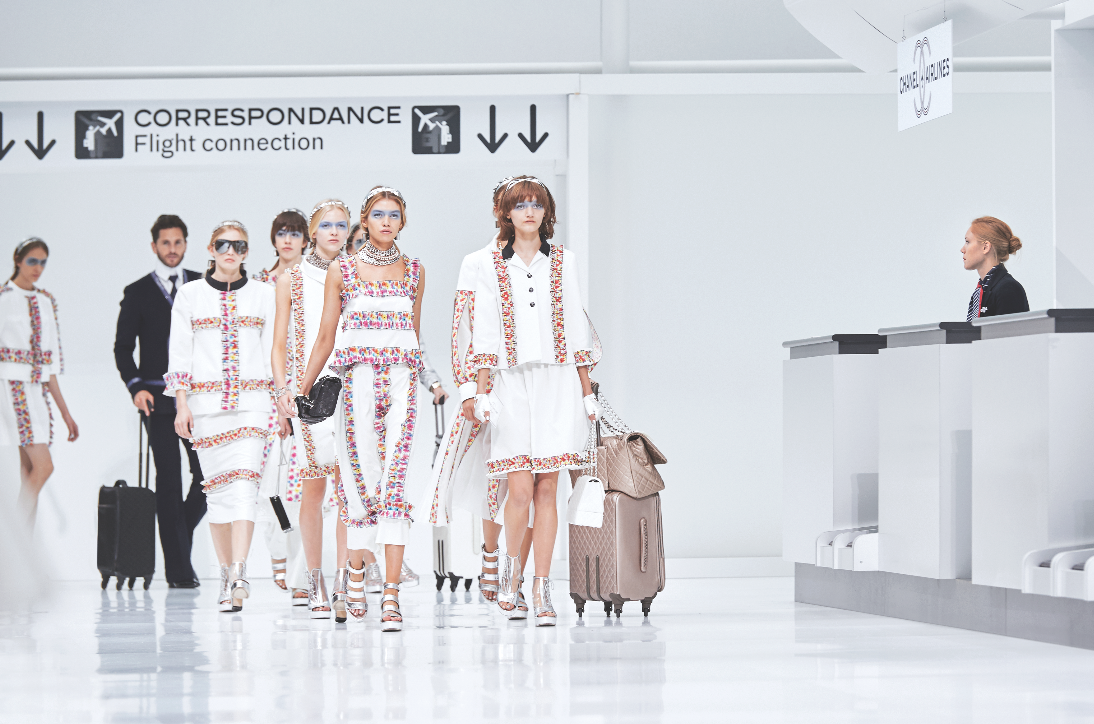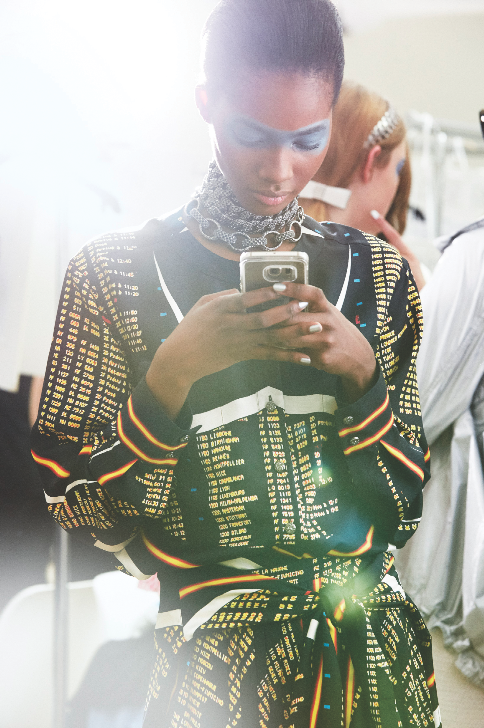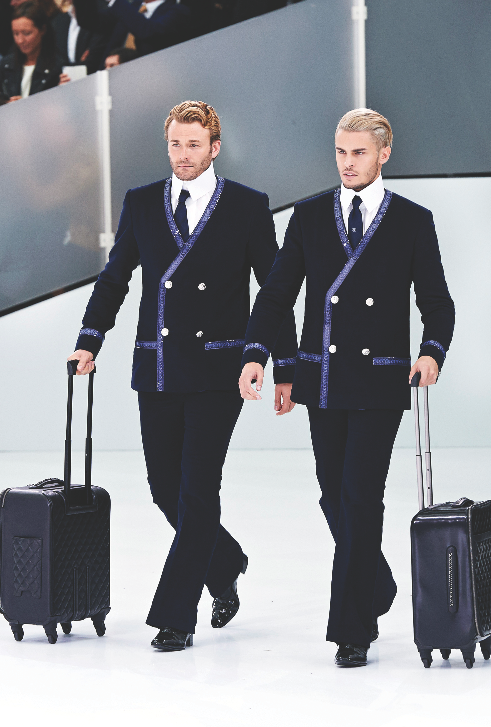 ka