We love menswear, the tailoring, the fabrics and the complete obsession in perfect construction – sartorially speaking. Fall is well on its way (we know…time just flew by!) and this season there is a nod to the dark, demure and sophisticated. It's a new season of chic minimalism, stinging shades, and wearable innovations that are truly transforming the modern man's wardrobe.
Perhaps an effort of revisiting the back to basics, this was a season of wearability, practicality, but also a push to modernize our men. With all of the extravagant and truly exceptional menswear shows it was hard to select a few noteworthy collections, but we selected five that were truly inspiring and helped usher in a new appreciation for menswear.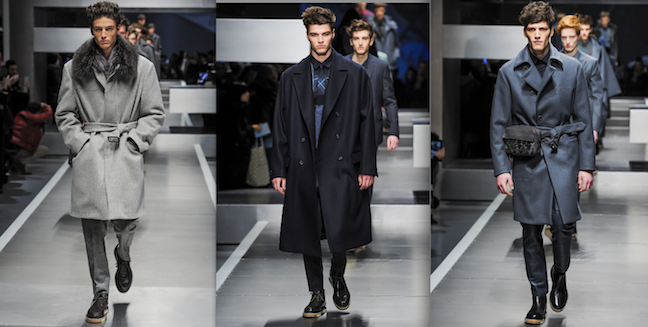 FENDI: Silvia Venturini was inspired by Scandinavia, thus an oversized silhouette came to be on the runway. Conventional and wearable separates were tangled with wooly accessories, unshorn coats, yeti boots and seasonal chunky-knit sweaters. Tailored blazers, tweed and herringbone pants, sophisticated sweaters perfect for braving the winter elements, some with rolled neck details, and others with intricate weaves. Oversized bags packed a punch and anchored the populous jackets, and overall the collection was a comprehensive blend of the wearable with the periodically implausible – but of course never too much for the audacious and debonair avante garde garcon.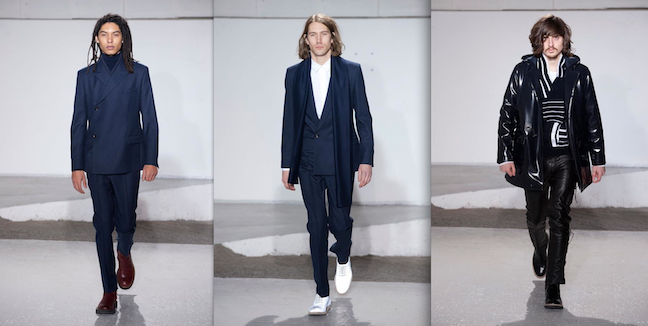 MAISON MARTIN MARGIELA: Fashion and Music are a prodigious marriage of insight and inspiration for even the most adept designers. That was ever so definite at the Maison Martin Margiela show where music maestros took to the catwalk. Taking a turn were the illustrious Richard Fearless, Gwilym Gold and Paulo Goude. The looks themselves though were less outlandish than those who wore it, showing hints of poise and gentility, a harmonious elegance for day and evening dressing. Inklings of blush burgundy shades and gallant blues cloaked the long jackets that formed over the relaxed blazers. Intertwined with the decadent elegance, and rock and roll vibe was a sporty serene feeling.  Garments were coaxed with whispers of fur, and of course the house's signature question mark came by way of knitted extravagance.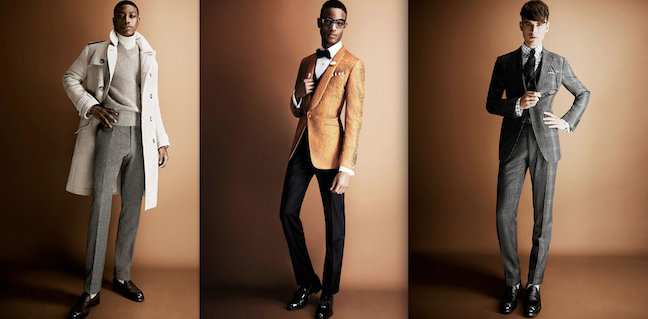 TOM FORD: Inspired by the sixties for his latest collection, his take was very much one that revolved around a truer silhouette, but not necessarily a tight one. "I love a wide-cropped coat and there's an anglophile aesthetic." Perhaps a perfect pairing of a modern and streamlined rolled neckline tucked beneath a suit jacket in lieu of a shirt, or a waistcoat tailored slightly higher to elongate the modern frame. Models continued to move through the show in snug layers, followed by models in duffle coats – again that nod to the early Sixties. Intricate and alluring jewel shades of amber and turquoise for eveningwear that would surely make the modern man look and feel refined.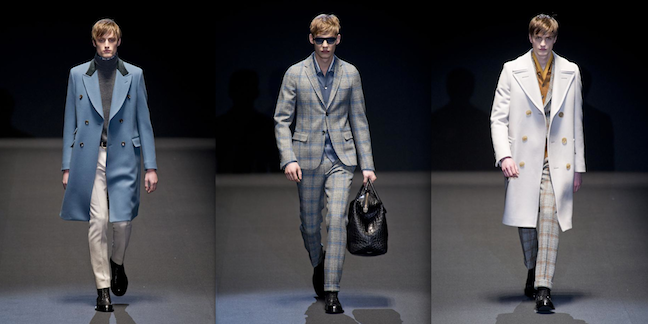 GUCCI: Gucci models are always as sumptuous as the collection is, and in true spirit of the house's sincere devotion for opulence there was a rather non discriminating palette of sky blues, burnt reds, resolute greens, ravishing oranges, and notes of grey and black. It was a relaxed take on tradition for the brand, which bore hints of a gallant mercenary's wardrobe, combined it with the countryside and that intrinsic Italian luster. "The Gucci man returns to a sartorial tradition only to live it on his own terms, pairing formal and informal as he likes," said creative director Frida Giannini. "This is a contemporary gentleman with a romantic soul." With a focus on the unconventional silhouette, there were single-breasted jackets married with slightly undone and roomy pants, belted to establish a neoteric oversized proportion. The sweaters were comfortable and cozy, while tuxedos were detailed with meticulous tailing and a sharp attention to detail, the modern man's most necessary wardrobe essentials.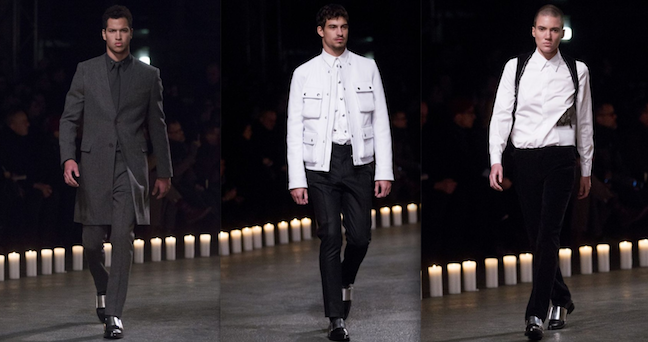 GIVENCHY: Riccardo Tisci did not present a couture collection for Givenchy, so the spotlight was on creating a lavish couture collection for menswear. His inspiration was his absolute and everlasting love for the U.S.A. "I've been obsessed with America since I was a kid," he explained. "It's the typical Italian dream of someone who wants to be somebody." Pentagram designs masked the collections argyle cashmere vest and ushered in the show's governing spirit, photographer Robert Mapplethorpe, whose work is one of Tisci's inherent joys. His sharp monochrome trademark was reflected throughout in prolific images of floral prints, neoclassical nods, the Stars and Stripes, and his take on the provocative. Such was the implied suggestiveness of his ever so habitual elements such as a parka was entirely sinister and considerably malevolent.
Story by Sarah Harris, KA MAGAZINE