BEST BREAKFAST
[singlepic id=12 w=320 h=240 float=]
— LE CARTET — 106 Mcgill, Old Montreal District — 514.871.8887
The next time you go to a meeting, have it at Le Cartet. Suggest that your client meet you for breakfast at this "Little Gem in Old Montreal"called Le Cartet on McGill, corner Wellington. There is no place like it in the city; the people, the food, and the takeout counter is always there when you need it!
BEST DINNER
[singlepic id=13 w=320 h=240 float=]
— FERREIRA CAFE — 1446 Peel Street — Downtown — 514.848.0988
Everybody knows that Ferreira is it… Where does "anyone who is anyone" go to for the best meal in town? The answer is pretty obvious — Ferreira is one of those restaurants that has been in the city for ever and you will never be able to make reservations the night of. Chef Marino Tavares is one of Montreal's top, and cooks a great menu of Portuguese dishes for this Montreal hot spot.
BEST FLOWERS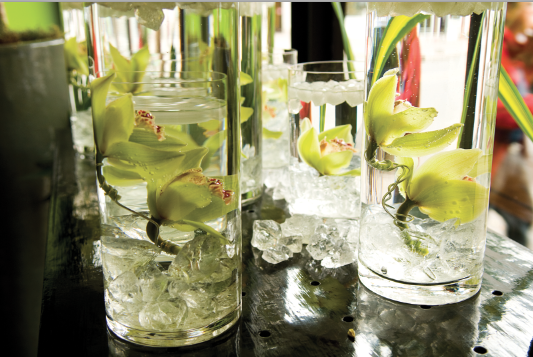 — ZEN Le Pouvoir des Fleurs — 1039 Ave. Mont Royal East — 514.529.5365

This little gem is located in the heart of the Rue Mont Royal strip, just minutes walk from the Metro Mont Royal. The front is small and it might be easily passed by but if you do it is definitely worth looking for until you find it.

Once inside you will feel immediately the love that the owner and staff puts into every detail of their craft. Zen prides itself on creating unique arrangements a bit outside of the box and even decided to hold of on doing a website as not to be forced to copy themselves. Take a visit for yourself to this oasis of beauty and you will definitely not be disappointed.
[singlepic id=26 w=320 h=240 float=]
— FLORE — 5008 Sherbrooke W.— Westmount — 514.488.3555
Dont step into this place unless you have the intention beforehand to spend a lot on redecorating your place with flowers…and lots of them! Flore's shop on Sherbrooke street in Westmount is like a garden of heaven…right in the middle of the city. KA Loves Flore.
BEST HOTEL
[singlepic id=21 w=320 h=240 float=]
— ST. JAMES — 355 St. Jacques Street — Old Montreal — 514.841.5005
The St. James Hotel is truly a remarkable place in Montreal — it is the only 5 star Hotel in the city, and they can literally make anything happen for their guests…Mick Jagger once took the whole hotel (60 rooms) for himself. The XO restaurant at the St. James has also some of Montreal's finest food. Quite the place to go when you wish to feel pampered in luxury.
BEST ITALIAN RESTO/BOUTIQUE
[singlepic id=17 w=320 h=240 float=]
— BENIAMINO — 32 Mcgill — Old Montreal — 514.284.1711
We have to love having Beniamino Resto Boutique around! This modern Italian deli, takeout, cafe, boutique… is the one thing Old Montreal can't do without….that and Cartet. It's the best place to stock up on all that is Italian— and the espresso is great!
BEST ASIAN FOOD
[singlepic id=16 w=320 h=240 float=]
— AZIATIK — 626 Marguerite D'Youville — Old Montreal — 514.843.8388
Modern asian fusion done well — Aziatik is a little wonderful spot in the heart of Old Montreal, just next to the boardwalk. In the summer is truly the best time, as they have an open window concept which stretches onto their outdoor terrace. Love the food, love the place and love the vibe.
BEST NIGHT CROWD
[singlepic id=25 w=320 h=240 float=]
— VAUVERT — 355 MCgill ( in the St. Paul Hotel) — Old Montreal — 514.876.2823
Hot spot, hot food and hot people. Montreal's finest have all been to Vauvert. The music is is right and the vibe on Thursday and Saturday nights is right on. Vauvert is a beautiful little spot located on McGill street, right inside the gorgeous St. Paul Hotel.
BEST BAKERY
[singlepic id=23 w=320 h=240 float=]
— OLIVE & GOURMANDO — 351 St. Paul W. — Old Montreal — 514.350.1083
Sweets are not so evil in this little spot on St. Paul street — You can pass by for weeks and not even notice this place. But as soon as you walk in, it's like going to grandma's house — just after she just finished baking cookies and pastries and add some of the city's best breads! mmmmmm
BEST OLD MTL MENS BOUTIQUE
[singlepic id=19 w=320 h=240 float=]
— LE CLUSIER — 432  Mcgill — Old Montreal — 514.842.1717
Le Clusier is a men's boutique in old Montreal, housing some of the best brands from casual to evening wear. They have made to measure tailoring, or casual jeans and shirts if you're looking for something a bit less tailored. Just an overall great vibe.
BEST THAI FOOD
[singlepic id=18 w=320 h=240 float=]
— CHAO PHRAYA — 50 Laurier W. — Plateau Mont Royal — 514.272.5339
KA discovered this Thai restaurant many years ago and we just can't stop loving Chao Phraya. Their dishes compare to no other Thai restaurant in this city and the space itself is so great to just enjoy the vibe and chill. Please do make reservations! This place books up quickly.
BEST GREASY SPOON
[singlepic id=20 w=320 h=240 float=]
— THE GREASY SPOON — 160 Laurier W. — Plateau Mont Royal — 514.495.7666
This spot is truly where you go with a gang of friends for a fun time, low-key but great food. The people are young and fresh, and the music is great.
BEST SOFAS
[singlepic id=15 w=320 h=240 float=]
— MONTAUK — 4404 St. Laurent Blvd. — Plateau Mont Royal — 514.845.8285
Montauk is the king of Sofa's… who didn't know this? … please go to the new Montauk on St. Laurent and be inspired by Sofas that feel like sitting on clouds.
BEST OUTDOOR FURNITURE
[singlepic id=22 w=320 h=240 float=]
— JARDIN DE VILLE — 8128 Decarie Blvd. — 514.342.8128
We all wish we had the best and biggest terrace in the city in order to get all of Jardin de Ville's outdoor collection. The pieces look and feel like you are on a beach somewhere, over looking the ocean … nothing is better than that.