As some of you may not know about Holiday House NYC and its annual month-long holiday event, which raises money and awareness for breast cancer; here is a quick introduction.  Founder and Interior Designer Iris Dankner, was diagnosed with breast cancer sixteen years ago, and since then, has been an advocate to women in need, and helping to find a cure. In 2008, Dankner followed her two passions (design and helping cure breast cancer) and created "Holiday House", the first designer show house in New York City. Recruiting top interior designers in the New York City area, the show house has been held in a historic mansion on the Upper East Side of Manhattan and is a resounding success, with all proceeds donated to help the quest to end the scourge of breast cancer forever.
That is until this year, as the roster of talented designers also included the only Canadian, Dee Dee Eustace of Taylor Hannah Architect (Toronto / New York) who has a true holistic approach to Architecture and Interior Design. Dee Dee was appointed the responsibility of transforming the mansion's foyer entrance, and did a remarkable showcase in collaboration with ABC Carpet & Home, using rich patterns, bold colours, lots of mirrors and art, as well as great furniture pieces. We recently sat with Miss Eustace to get her vision behind this wonderful charitable showcase at Holiday House NYC, now open to the public from Nov. 20th to December 21st. Read on for the Interview with Dee Dee Eustace.
Dee Dee, tell us a little about Holiday House and why you are so excited about this showcase.
it is an incredible mansion with fabulous architectural bones, just ripe for some intervention, plus a worthy cause! Helping women & Breast Cancer Awareness is so close to my heart.
Was it difficult for the designers to work together all under one roof.
I was lucky that I have a fabulous team from my office and Abc Carpet & Home As well.  The designers surrounding me were outstanding! Even being in the foyer, we all got along!!
Correct us if we are mistaken, but you are the only Canadian in NYC for this fabulous cause and showcase, and what a honour this must be!
I have been the lone Canadian for some time in NYC. It is similar to parachuting in from Mars; I love it.
Why do you think there are not more Canadian designers in such a showcase, it is only a few hours away, or is it a few hours and a world away.
We all have our causes and home turfs. Mine is Toronto, but also NYC now, so it is a natural thing for me. As designers, we (THA) tend to really transcend borders.
What was your inspiration for your Holiday House showcase.
Versailles Hall of Mirrors, I wanted the architectural rigorous design of the existing room with the geometric marble floor, travertine slab walls and plaster ceiling to be re-enforced and challenged at the same time. I did this by adding 14 individual mirrors with modern lighting of 8 wall sconces and 1 chandelier, plus great furniture. Repetition is a strong architectural device.
You created the first impression, a sort of "make it of break it" for the whole mansion; the entry foyer. This literally set the tone for this year's Holiday House. Was there a moment when you thought "ok maybe I should have opted for the bedroom".
Never stand down! I am and was quite confident when they told me "Good news, you have the major foyer, but bad news, nothing can be attached to floor, wall or ceiling". Definitely a challenge, I rise to the occasion.
Your foyer is magnificent, your choice of collaboration; one of our (KA Magazine's) faves ABC Carpet and Home, perfect "holistic" choice. How did you decide on ABC Carpet and Home as your sponsor.
They fit the bill for me with their organic and holistic approach to design and living; a stylistic vibe that suits my desired aesthetic. They have a big range and I have big range. So we are a great fit!
What does Dee Dee do over the holidays, when not creating beautiful spaces for clients and charity.
I make beautiful spaces for my family and friends, chilling with my kids, playing tennis, ice skating and pure indulgences in food and wine daily.
What other designers work at the Holiday House did you enjoy.
I loved a small girls room by Guillaume Gentet, the fashion illustration paired with the tailored jacket laid on the bed is prime elegance: fabulous detail!!
What is your wish for 2015.
Love to be everywhere and for everyone: pure joy to all.
Tell us a little bit about Dee Dee.
I am driven because that is in my nature, and my nature is to strive for beauty that is everlasting. Dee Dee is feisty which in turn is courageous, mixed with kindness. I take each day and make it the best day, always knowing also that the best is yet to come.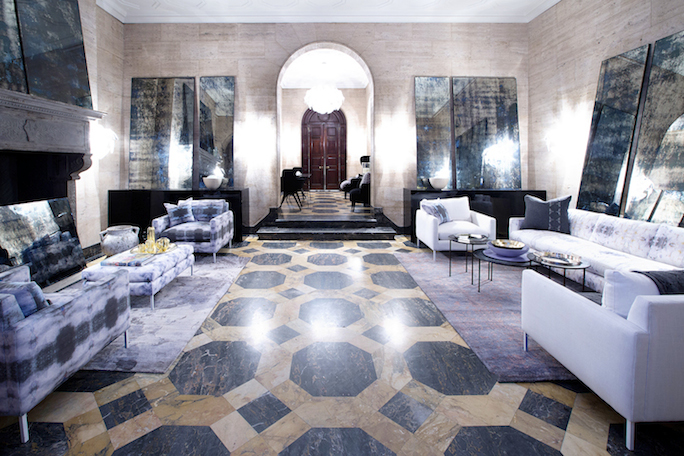 For more information, visit taylorhannaharchitect.com