Toronto's very own Alex Currie, better known by his artistic moniker RUNT (or Al Runt), is now bringing his surrealistic and colourful characters to Leslieville. Commissioned by artist and jewelry designer Karen MacRae, he is now working on re-canvassing the complete facade of MacRae's East End Boutique – On The Other Hand, at Queen and Pape. 
"I love the raw energy of his work. It has the naïveté of folk art spiked with a heavy helping of punk rock. Most importantly, Runt has always represented authenticity- he is an artist that is true to himself, a maverick. Through the ups and downs of the Toronto Street Art Scene, Alex has stuck to his guns. He and I share that tenacity and sense of purpose in our art." says MacRae.
RUNT began his career in Toronto's underground scene in the early 80's and is renown for having painted the iconic live music venue, Lee's Palace on Bloor West and Much Music's Rap City Intro Animation for the show. Runt has a signature style that introduces a new and vibrant aesthetic to Toronto's downtown communities. Albeit controversial, his little monsters and the movement of his funny characters cause anyone who is walking by to literally "stop in their tracks". Perhaps one of the reasons why passers-by are intrigued by Runt's work is because it seems like the longer you stare at his work, the more hidden meaning you tend to find. 
"I have hidden jokes in most of my work that most people won't get or even notice unless they look deeply," says Runt.

Karen MacRae's facade is a perfect spot for one of RUNT's murals – on a busy section of the Queen East strip – this part of the city is just screaming for something like Runt's colourful art. As a jewelry designer, Macrae loves the idea of her shop being the set for one of Toronto's new street works.
"I want my exterior to be as creative and beautiful as what we have on the inside. This is a great opportunity to work with a fellow Toronto artist to create such a collaborative design for the store and I truly believe this will become a part of Toronto's east end landscape."
A great new collaboration between two Toronto artists, RUNT's colourful Leslieville mural is being completed by early November, 2017.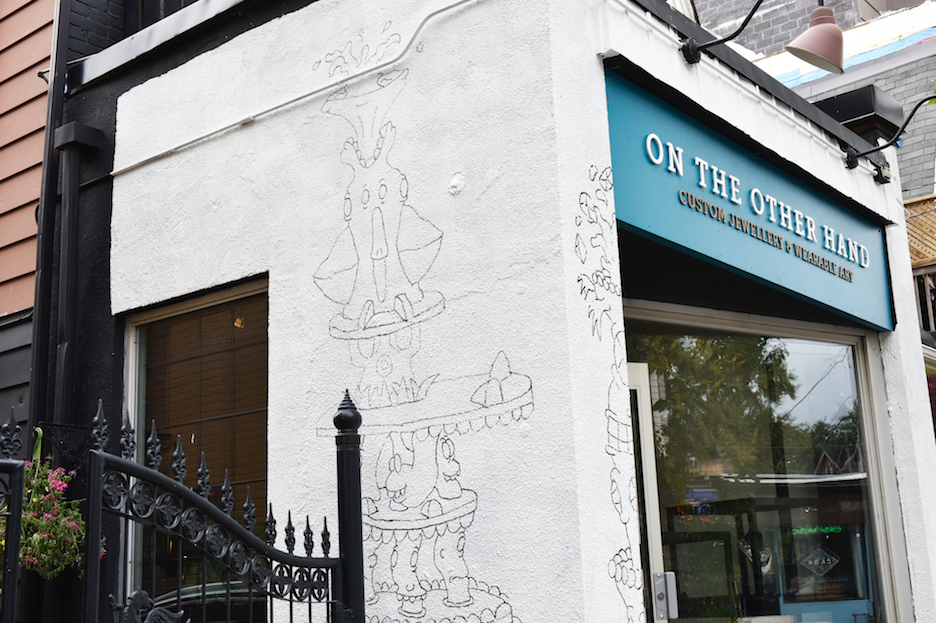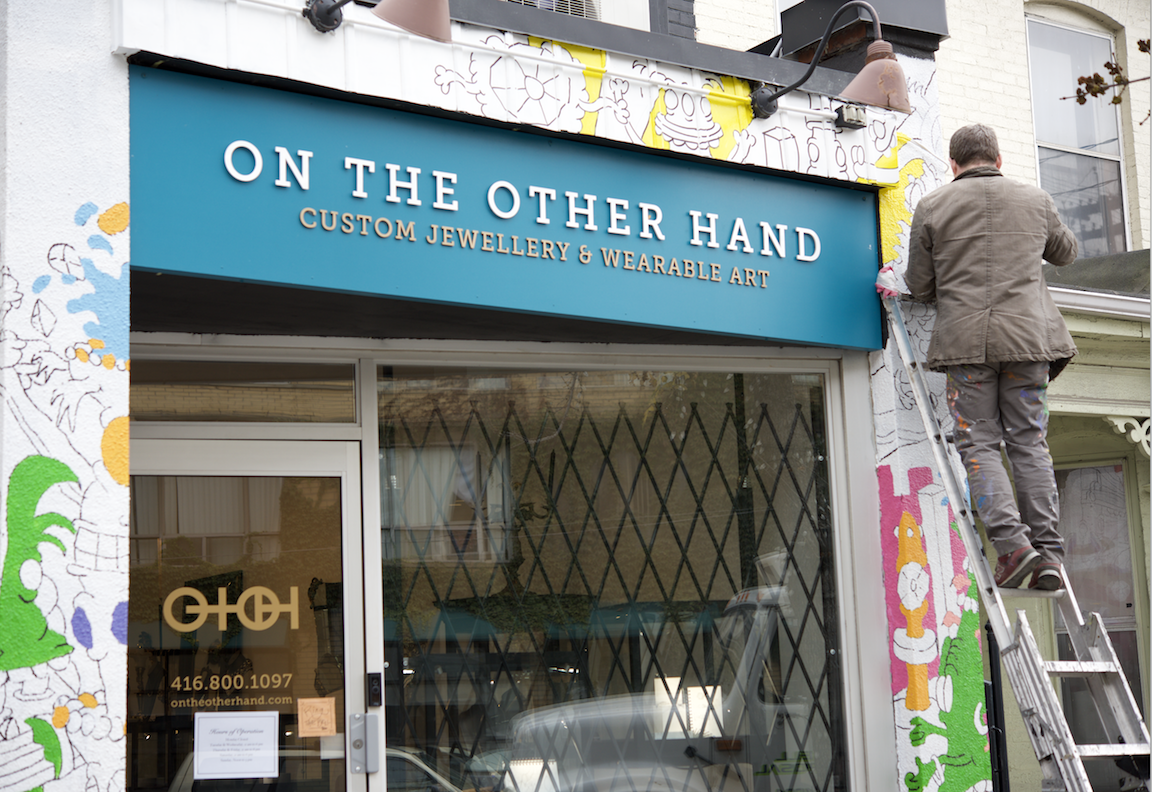 On The Other Hand at 1015 Queen St East, Toronto